Through Lutheran World Relief (LWR), Baltimore, and its overseas partner Action by Churches Together (ACT) International, U.S. Lutherans have pledged an initial emergency grant of $50,000 for victims of the May 3 cyclone in Myanmar,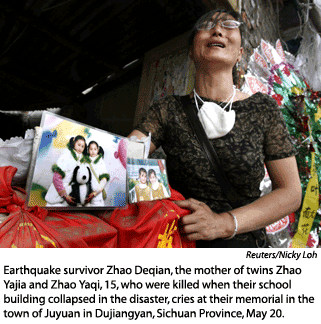 and that aid is "definitely getting through" to those who need it, according to an LWR spokeswoman. Both LWR and ACT are partners of LCMS World Relief and Human Care.
"Working through local organizations, ACT members supported by LWR have already provided assistance to approximately 100,000 people," Emily Sollie, LWR's director for communications and media relations, told Reporter May 28.
That aid includes clean water, emergency food, and non-food items such as clothing, blankets, cooking utensils, and mosquito nets.
Sollie said LWR's local partners in Myanmar "are able to reach very poor and remote villages that are difficult to access, and one has already set up 21 centers to assist people left homeless by the disaster."
Additionally, she said, the ACT alliance plans to provide:
clean water for up to 1.3 million people at 5,000 sites.
emergency shelter for up to 340,000 people.
at least 10 days of food for up to 68,000 people.
non-food items for up to 112,000 people.
Because the needs are so great in Myanmar — and among victims of the May 12 earthquake in China — LWR and LCMS World Relief and Human Care are asking U.S. Lutherans not to forget those on the other side of the world who need their help. (Click here to read related story, "Kieschnick urges prayers for disaster victims, caregivers.")
A May 23 appeal to donors from LCMS World Relief and Human Care — signed by Executive Director Matthew Harrison, LCMS World Mission Executive Director Robert Roegner, and Lutheran Hour Ministries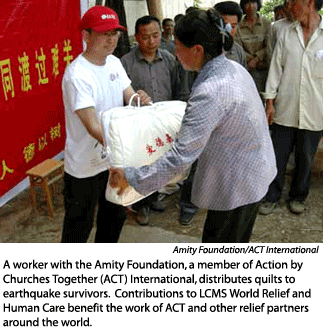 Director of International Ministries Walt Winters — says media reports have given the false impression that "funding was not urgently needed or usable" for either disaster, which have a combined death toll of at least 200,000 people.
"This media effect has kept our receipts at less than $10,000," reads the appeal, even though "the total lives lost from these two disasters combined equals the losses from the 2004 South Asia tsunami, which produced some $5.6 million in relief funds."
The Lutheran Church–Missouri Synod "has significant contacts on the ground in both locations," according to the statement, including Lutheran congregations; a partner church body, the Lutheran Church–Hong Kong Synod; and relief and missionary staff.
Lutheran Hour Ministries (LHM) in St. Louis says its staff in Myanmar is OK and there has been no serious damage to the LHM ministry office there.
In a May 22 news release, LHM reported that its Myanmar staff "recently assisted cyclone survivors at several [camps for the homeless] by delivering food, clothing, and messages of hope."
According to LHM, "there are still challenges and obstacles that all foreign-based organizations are facing in trying to help the people in Myanmar. The military government has placed restrictions on where and how aid is distributed. But LHM–Myanmar, which has been operating in that country for more than 10 years, is considered a local organization and is allowed to bring funds into the country and distribute resources with fewer restrictions."
An LHM staff member there said "the scale of the help needed [in Myanmar] is so great that the efforts of LHM and other aid organizations so far have not been able to cover even basic essential needs of the victims."
Aid to China
In China, U.S. Lutherans also are working through ACT International and a local ACT member agency, which have set up an office in Chengdu, about 98 miles from the earthquake's epicenter, to coordinate relief efforts.
An initial grant of $25,000 from LWR will be used by ACT to help provide food for 16,000 people and quilts and plastic sheeting for 8,000 homeless families.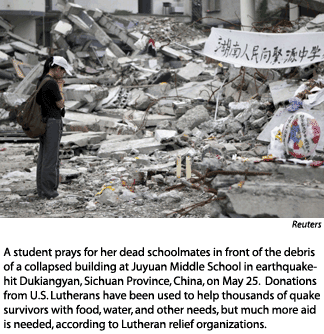 Following the immediate-crisis phase, ACT plans to assist with the rebuilding and rehabilitation of 600 houses; 10 schools; five hospitals or clinics; and five drinking water or irrigation systems in quake-affected areas.
"The needs are great in both China and Myanmar," said LWR's Sollie, "and we are still fundraising for both disasters."
No LCMS congregation members serving at Concordia International School Shanghai (CISS) or other schools in China were reported killed or injured in the 7.9-magniture earthquake or its aftershocks.
Faculty, staff, and students at CISS — an LCMS-owned Christian international school, preschool to Grade 12, for foreign passport-holding students — have raised more than $3,000, as well as clothing and personal-care items, for quake victims. That aid is being distributed in China by the Hong Kong-based Concordia Welfare and Education Foundation, an organization founded by Lutherans living in Hong Kong.
The Synod and its missionaries in Hong Kong also are working to help the China Christian Council rebuild its worship and training centers damaged in the quake, and to provide counseling to survivors.
Funds are "desperately needed" to enable LCMS World Relief and Human Care and its "on-the-scene" partners to respond to victims of the earthquake in China and the cyclone in Myanmar. Says the Synod's mercy arm: "We rely on your support to provide assistance following disasters like these, and share Christ's saving love and grace in times of need."
Contributions — earmarked for "Myanmar Cyclone Relief" and "China Earthquake Relief," and made payable to LCMS World Relief and Human Care — may be sent to LCMS World Relief and Human Care, P.O. Box 66861, St. Louis, MO 63166-6861. Or, call the credit-card gift line at (888) 930-4438.
Posted May 29, 2008