By Linda C. Hoops
While storms continued to sweep over much of the Upper Midwest Thursday (June 12), LCMS congregations and members began assessing damage, but still managed to find some rays of hope amidst the devastation.
As coordinator of the relief efforts for more than 100 member families of St. Peter's Lutheran Church in Columbus, Ind.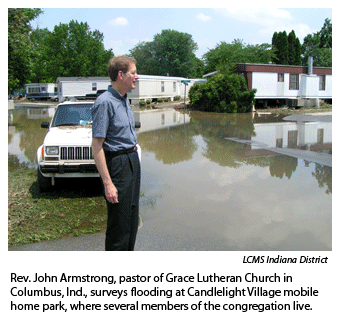 , affected by flooding, Denise Gressel sees God working in the lives of people, and even with the forecast calling for more rain, remains hopeful, not anxious.
"While tragedy is all around us, it's the individual stories of so many wonderful people coming together to help each other that makes me excited, and shows us time and again that God is at work," she said June 11.
She told of how the congregation's receptionist was talking about her son and his family who were left homeless, when a member of the congregation walked in, overheard the conversation, and offered to take them, as well as other families, into her home for shelter.
Another member of the congregation, she said, helped direct school buses onto flooded roads to transport nursing home residents to higher ground.
A 20-year-old member became disoriented while driving on downtown streets because of rapidly rising waters, but somehow met her mother at an intersection and was led to safety. "It was God's work that they met at that intersection," said Gressel.
"I hear from so many individuals who have stories like this. It's phenomenal: people coming together, saving themselves and the community."
Sixteen youth and adults from the congregation, originally scheduled to attend a work camp in West Virginia next week, instead will help with flood relief efforts in their community. The congregation has set up phone lines for people needing help and those offering help.
Rev. John Armstrong, pastor of Grace Lutheran Church, Columbus, Ind., said that although more rain is predicted for the area in the next few days, it won't be anything "like the 10 inches that fell in 12 hours over the weekend."
To escape the rising waters, 18 members of the congregation stayed overnight at the church on Saturday. He and other staff began calling and visiting the 10 or so member households that were affected by the flooding on Sunday. The congregation is providing meals each evening for those affected by the flooding, as well as bringing lunches to homes where volunteers are helping in the clean up.
The needs of people are still being determined as the floodwaters recede, but he is confident that those needs will be met through the efforts of volunteers and donations made through LCMS World Relief and Human Care.
"Neighbors are being neighbors, taking care of each other," he said. "God uses these circumstances to accomplish His purposes, and His purposes are so much higher than ours."
Indiana District President Dan May estimates that 300 to 400 LCMS member families in the district were affected by the flooding over the weekend.
In Wisconsin, Rev. Steven Voigt, pastor of Covenant Lutheran Church, Milwaukee, came close to having an electrifying experience when entering the church for Sunday morning services.
When Voigt arrived prior to the 8 a.m. service, he noticed the air was not moving, so he began to go down to the basement where the air conditioner is located. He saw the basement had about six feet of water but did not step into it, which was fortunate as the water was "energized with live currents still on," said Doug Kressin, chairman of the 59-year-old congregation.
He said that about 150 members still arrived for services "even though it was pouring. When they saw the situation, they began carting everything needed — altar candles, Bibles, hymnals, communion ware — over to the high school gym for service, which began, remarkably, only five or six minutes late."
Kressin said the church's sump pumps, due to mechanical failure, were unable to keep up with the constant flow of water into the basement where all of the facility systems are located. Damage, he estimates, is in the range of $175,000, which he hopes will be covered by insurance.
The church's Early Childhood Center re-opened June 11, and worship services will continue at the high school.
Peg Raabe, administrative assistant for missions, evangelism, human care, and older adults at the South Wisconsin District office, said the district is seeking input from pastors and administrators about the effects of the flooding on their members and facilities, so that aid and volunteers can be directed.
"The neighborhood immediately surrounding the Racine Lutheran High School was badly flooded when the Root River went over its banks," she said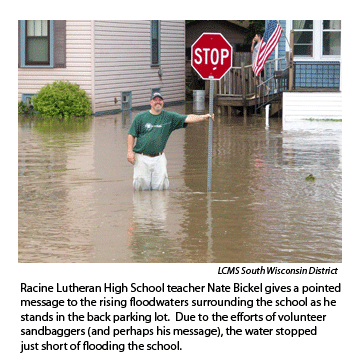 . "The high school is completely surrounded by water and its football field is now a lake. The water came within 6-10 inches of the doors to the school on street level, but miraculously no water entered the building — yet," she said via e-mail.
On Wednesday afternoon she heard from Rev. Paul Crolius, pastor of St. Peter Lutheran Church in Reedsburg. About a dozen families whose homes were flooded had to evacuate until the water recedes and they can assess the damages.
"Thankfully the water is receding, but they cannot afford to get any more. The church and community are pulling together, helping each other. The evacuees are staying with other family members or in hotels," she said.
In Iowa, the situation continued to worsen Wednesday, as more flooding hit eastern Iowa, causing the city of Cedar Rapids to close due to high water. Rev. Dean Rothchild, assistant to the president in Iowa District East, said that at least 23 congregations were affected in the district, including St. John's in Waverly, Iowa, which has 35 families in the parish who are flooded out of their homes.
Rothchild said it's difficult to assess the damage, because many of the roads are impassable and bridges are washed away.
"The good news," he said late Friday (June 13) afternoon, "is that the river here in Cedar Rapids crested at noon, but the Iowa River still has to crest in Iowa City and its sister city, Coralville." Those cities are 25 miles to the south of Cedar Rapids. He doesn't anticipate churches in that area to experience flooding because "they are on higher ground."
Rothchild said he spent most of Friday in his office answering phone calls offering help. "I've received calls from Luther Haven Camp in Indiana, a congregation in