Arts and crafts, games, prizes, entertainment, and food and drink were all part of this year's "Operation FUN" (For a United Neighborhood), a free family festival sponsored by Concordia Publishing House on its parking lot.
The party, now in its 13th year, drew nearly 400 children and adults, as well as St. Louis Mayor Frances G. Slay, who commended both CPH and lo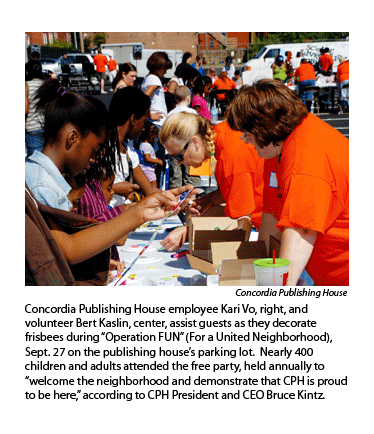 cal residents for being "good citizens."
Alderman Craig Schmid, who also attended, lauded CPH and its employees "for their commitment to their South St. Louis location … and to this quality, family-friendly event."
Operation FUN is staffed by CPH employees, who volunteer their time to participate. The St. Louis Fire Department, paramedics, Health Department, and St. Louis Science Center also were on hand, offering demonstrations and other activities.
"We are long-time residents in this neighborhood," said CPH President and CEO Bruce Kintz. "Operation FUN is one way our employees can welcome the neighborhood and demonstrate that CPH is proud to be here."
The company has resided at the corner of Miami and Jefferson in South St. Louis for 139 years. For more information about CPH, visit its Web site at www.cph.org.
Posted Nov. 6, 2008