The new home of Concordia University Texas, Austin — some 12 miles from its former 23-acre site — includes a nearly 250-acre nature preserve with wetlands, caves, and dense woods. The preserve gives the university a uni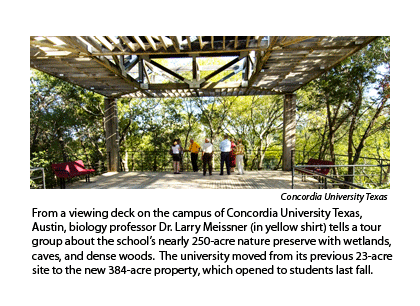 que character, say the school's leaders, and makes the campus the largest of the Synod's 10 Concordia University System schools nationwide.
"How do we think and talk about God's creation? It's all right here," Concordia President Thomas Cedel told an Austin American-Statesman reporter during a walking tour last fall. Cedel says he is convinced the new, larger campus will enable the school to draw more students, and, as a result, develop more Christian leaders. "Developing Christian Leaders" is the school's mission.
A former research facility that had been closed for several years, the site included several well-maintained buildings that the university has turned into classrooms, offices, a student center, a cafeteria, and library. New construction includes student housing — some of the rooms have views of the wooded preserve — and a fieldhouse. Longer-range construction plans call for additional student housing, classrooms, a student center, a performing arts facility, a chapel, and expanded athletic facilities.
The entire project — including the acquisition of the 384-acre property, renovation of existing buildings, and Phase 1 new construction — totaled approximately $110 million.
The decision to move was made unanimously by the school's Board of Regents in May 2005 because the current location was "landlocked" and the university was unable to expand.
This past fall the 82-year-old school gained 434 students over last year — a 24-percent increase that pushed enrollment at its main campus and four satellite locations to a record 2,269 students.
"The old campus simply couldn't accommodate increasing demand for more classrooms, dorm rooms, and program space," said Dr. Kurt Krueger, executive director of the Synod's Board for University Education and president of the Concordia University System. "We anticipate that Concordia's enrollment will continue to increase, as more and more students hear about the university's excellent academic programs and its commitment to educate Christian leaders for the church and the world."
"This has been an amazing project," Dr. David Kluth, who coordinated and supervised the move, said during dedication of the new campus last October. Kluth is vice president for university services and a communications professor at Concordia Texas. "And while not everything is finished … we are open for business and actively writing the next chapter in Concordia's history.
"And the credit belongs to God — the true architect and engineer of this place, of this project, and ultimately, of this university."
For more information about Concordia University of Texas, visit its Web site at www.concordia.edu.
Posted Dec. 18, 2008