Now through Dec. 31, Concordia Publishing House is offering 20 percent off the first quarter of each new subscription of Growing in Worship, a new Sunday worship folder for children and their families.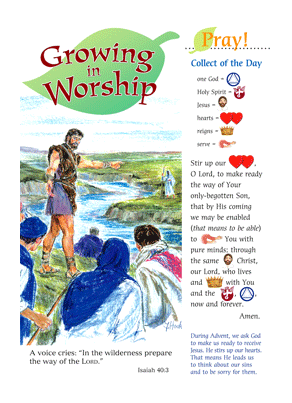 The four-page children's worship folder highlights the theme and message of the day and teaches children ages 5 to 10 about the church year and religious festivals.
Each week's issue includes:
the prayer of the day in a child-friendly format.
an activity that focuses children on what they will see in worship.
instructions and an activity designed to help children understand the Gospel reading.
definitions of words used during worship.
ideas for faith activities and discussions that families can use during the week.
"Growing in Worship is the latest product from CPH to aid parents and congregations in raising children up in the family of God," said Deaconess Pamela J. Nielsen, senior editor for Sunday school, youth, and family materials with CPH. "With its bright colors, engaging activities, and direct links to the church's life of worship, children will grow in their knowledge, appreciation for, and participation in the gathering of the saints around Word and Sacrament."
Nielsen says pastors will find the resource "a perfect springboard for children's messages"; parents "will appreciate the help it provides in sparking family faith talks at home"; and children "will delight in using it."
Subscriptions are available for $19.50 per quarter for five copies; $26 per quarter for 10; and $48.75 per quarter for 25. Individual subscriptions also are available for $6.50 per quarter. Shipments arrive on a quarterly basis.
To receive the 20 percent discount, call CPH at 800-325-3040 and mention the code "WGW." The promotion is not available on Web site (www.cph.org) orders.
Posted Oct. 16, 2008