A new "DCS Online Store" at the LCMS District and Congregational Services Web site features an inventory of resources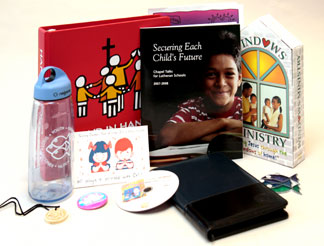 for congregational ministry — most available for the first time in downloadable format.
For the store, visit www.lcms.org/dcsstore or go to the DCS Web site at www.lcms.org/dcs and click on "DCS Online Store." Then, locate a needed resource in one of two ways — by selecting a ministry area category and browsing the product listings under that category or by using the "Search" feature where you can locate products by key word, price, or stock number.
The new DCS Online Store offers shoppers the convenience of paying for items in their shopping carts via credit card (Visa or MasterCard). Once the transaction is completed, they are able to download the resources right away, whether they print the material immediately or store electronic downloads for later use. For items that are only available in hard copy, there are currently no shipping costs.
In addition to downloads and printed material, the store offers kits, DVDs, specialty items, and some free items for ministry offered by four DCS ministry areas — Children's Ministry, Family Ministry, School Ministry, and Youth Ministry.
The store also provides a limited number of downloadable resources for its fifth ministry area — Stewardship Ministry — which still offers its manuals and other items only in hard copy through Concordia Publishing House.
Harold Rau, DCS manager of electronic resources, told Reporter he anticipates that the inventory of downloadable resources for Stewardship Ministry "will grow over the next several months.
"The plan is that all our printed resources will eventually be in electronic downloadable format, as a cost-saving convenience and time-saver for shoppers," Rau said.
Posted Feb. 5, 2008