By Kim Plummer Krull
As hurricane-weary Houstonians continue to clear debris, repair their homes, and stand in long lines for food, ice, and gasoline, LCMS members opened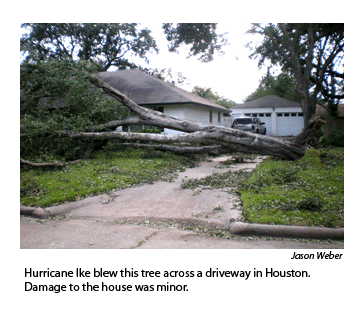 relief distribution centers to serve as "points of blessings" in the nation's fourth largest city.
"We want to help our congregations help their members and also reach out to their communities' needs," said Rev. Mark Junkans, executive director of the Lutheran Inner-City Network Coalition (LINC) Houston, who, in partnership with the LCMS Texas District, is operating the primary relief headquarters at the LINC Mission Center (www.linchouston.org). "This is a chance to be points of blessings in our community."
Immediately after Hurricane Ike battered the Gulf Coast of Texas and Louisiana on Sept. 14 and propelled a destructive trail through the Midwest, LCMS responders quickly moved to provide emergency help despite widespread power outages and limited communication.
By Sept. 18, the Category 2 hurricane had claimed 51 lives; nearly 2 million people remained without power across Texas. Ike caused the greatest property damage in Southeast Texas, notably the "Golden Triangle" (Orange, Beaumont, and Port Arthur) and Galveston, areas where damages assessments are continuing.
In the greater Houston area, 20 LCMS churches sustained damage, including:
A toppled steeple and water damage at Mount Olive Lutheran Church.
Exterior damage and soaked carpeting at Holy Cross Lutheran Church.
Roof damage and water in the sanctuary, as well as a burglary at Centro de Fe y Esperanza.
"Everyone I've talked to has some damage, from something as minor as fence damage or shingles blown off to collapsed ceilings and flooded homes," said Dr. Lou Jander, Texas District mission and ministry facilitator who also serves as the district's disaster response coordinator. "Probably 65 to 70 percent of our [LCMS] members [in Southeast Texas] have been affected in some way."
News from the hard-hit Galveston Island south of Houston has been limited. But Rev. Alan Taylor shared information he received about Ike dumping a foot of water in the St. John Lutheran Church sanctuary and flooding two other church buildings.
After surveying St. John members to ensure they were preparing for the storm, Taylor and his family followed mandatory evacuation orders and fled Galveston. Nearly a week later, the pastor was awaiting permission to return home.
Most St. John members, he said, likely sustained property damage. "I've spoken by e-mail with two of the families wh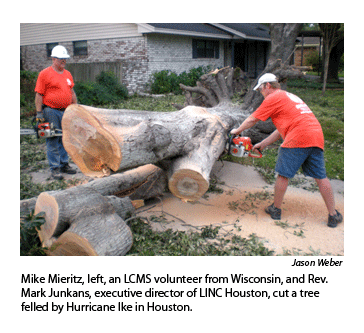 o lost their entire homes," Taylor said via e-mail from his evacuation post in San Antonio.
In addition to damaged homes and churches, Ike also wreaked havoc on the budgets of pastors, teachers, and staff at Lutheran ministries and social services programs.
Jenny Blackley, a newlywed and preschool teacher at Gloria Dei Lutheran Church in southeastern Houston, followed mandatory evacuation orders and was staying with family in St. Louis. She was thankful for reports that the church had escaped serious damage but worried that the area where a storage unit held most of her and husband Scott's possessions may have flooded.
"It's scary," Blackley said. "Seeing things on TV is bad enough. I'm terrified to see what everything will look like when I return."
About 25 LINC missionary pastors in Houston depend solely on weekly worship offerings for their salaries. "Since no offerings are coming in right now, they are hurting," Junkans said.

Lutheran Social Services of the South staff who work in programs such as foster care in Houston, at the Krause Children's Center in Katy (which evacuated children and sustained roof damage), and disaster response in Port Arthur are dealing with unexpected evacuation expenses on top of personal property losses.
But while hurricane survivors tackle storm-related challenges, LCMS ministries and individual volunteers are responding with shipments of relief supplies, manpower, and prayers.
Even before Ike hit the Gulf Coast, LCMS Southern District President Kurtis Schultz contacted the Texas District "assuring us of prayers and support and offering any available resources," Jander said. "After [Hurricane] Katrina, they [the Southern District] have done this before and know all about needs."
By Sept.16, volunteers from the Southern District's disaster response arm had arrived in Houston. Also en route were shipments of generators and non-perishable foods, sent by LCMS World Relief and Human Care (WR-HC) in partnership with Orphan Grain Train.
LCMS WR-HC is coordinating Ike relief efforts on behalf of the Synod and striving to raise an initial $550,000 to meet the immediate needs of LCMS members and their communities. Those donations to the Synod's mercy arm will help cover the salaries and benefits of affected church workers, collaborative work through Lutheran Disaster Response and LSSS, and other emergency relief needs in the Texas and Southern districts.
"This is a massive disaster with lots of urgent needs spread across a broad area," said Rev. Glenn Merritt, WR-HC's director of disaster response. On Sept. 16, both Merritt and Rev. Carlos Hernandez, WR-HC's director of districts and congregations, were making plans to travel to Texas to offer assistance in meeting physical and spiritual needs, working with congregations to reach out to their members and communities.

Beyond Texas, Ike's remnants caused power outages and flooding in the Midwest, where many communities are still reeling from earlier storms.
In St. Louis, two Concordia Seminary students and their wives returned from church Sept. 14 to flooded basement apartments. The couples lost nearly everything, according to the seminary, which provided emergency assistance and is coordinating an appeal for the families. [Make check donations to Concordia Seminary, designating "student emergency fund" in the memo line and send to: Concordia Seminary, Student Emergency Fund, Student Services, 801 Seminary Place, St. Louis, MO 63105. For more information, call (314) 505-7201.]
Lutheran Church Charities issued an appeal for volunteers to assist in Northern Illinois. (Learn more at www.lutheranchurchcharities.org.)

In an official statement issued by Dr. Gerald B. Kieschnick, the LCMS president urged fellow Lutherans to offer monetary and volunteer assistance for "r