Wally Bronner, founder of Bronner's CHRISTmas Wonderland, the world's largest Christmas store, died of cancer April 1 at his home in Frankenmuth, Mich. He was 81.
A funeral service was held April 7 at St.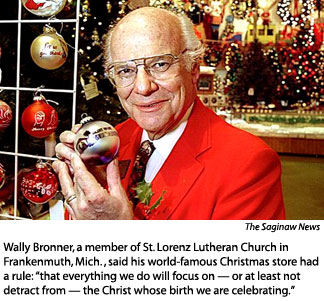 Lorenz Lutheran Church in Frankenmuth, and the church was "overflowing with people celebrating Wally's life and his Savior," according to Pastor Mark Brandt. To watch a video of the service, visit the St. Lorenz Web site at www.stlorenz.org.
Bronner had announced to store employees March 24 in a handwritten letter that "the Christ of Christmas is ready to receive me into His heavenly kingdom."
As Michigan's so-called "Father Christmas," Bronner was known for his strong Christian faith, his keen sense of humor, and his bright-red jacket, and he liked to begin staff meetings with prayer. He had joked that he would go on ahead to heaven "to make sure the decorative touches are in place."
His seven-acre CHRISTmas Wonderland, opened in 1945, holds 1.8 million ornaments, 50,000 trims and gifts, and 500 kinds of nativity scenes. The store is credited with helping to make Frankenmuth one of the most popular tourist spots in Michigan.
In 2004, Bronner reportedly told a Detroit Free Press reporter, "You want to know the truth? The truth is, no decorations are needed at all at Christmas." What really mattered, he said, was "helping people to decorate their hearts with peace and love."
Bronner never really retired from the store, although his children have been in charge of day-to-day operations for a number of years. "Retirement is for people who work, so they can devote their time to their hobby," he used to say. "I started with my hobby."
Michigan Governor Jennifer M. Granholm said Bronner "embodied the spirit of Christmas more than any one person we'll ever know. His warm heart could light up a Christmas tree, and it was a heart that was centered in his deep faith in God and endless passion for his community."
A sign outside Bronner's store carries this message: "Wally Bronner is now with his Christ of Christmas."
Survivors include Bronner's wife, Irene, and four children: Wayne (Lorene) Bronner, Carla (Bob) Spletzer, Randy Bronner, and Maria (Christopher) Sutorik.
Memorials may be made to the St. Lorenz Lutheran Church Foundation, the Salvation Army, the Gideons, or the City of Frankenmuth Beautification Fund.
Posted April 4, 2008