By Joe Isenhower Jr.
NEW ORLEANS — The 2010 National LCMS Youth Gathering (NYG) here July 17-21 no doubt left countless impressions on its 24,000 participants. A number of those youth and adults shared with Reporter what it meant to them.

"It's one big Servant Event for the city of New Orleans," said Michael Edgecomb of Adelaide, South Australia, who works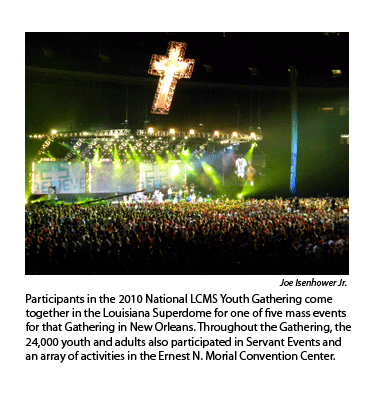 in school ministry for a district office of the Lutheran Church of Australia.

Edgecomb made that observation sitting in Hall G of the mile-long Ernest N. Morial Convention Center — a hall transformed into the "LIVE: Saved to Serve" room where on-site Servant Events included painting picture frames for new mothers served by local crisis-pregnancy centers, making 125 baptismal banners for local churches, donating 1,000 units of blood for area hospitals and locks of hair for cancer patients, making 500 fleece blankets for new residents of homes who lost their old ones to Hurricane Katrina almost five years ago, a scavenger hunt for personal care items to be donated to local shelters, and hearing about human-care and other ministries of Synod-related agencies with exhibits in the hall.

Wearing bright lime-green backpacks and T-shirts emblazoned with the words "I care about malaria" — to show support for the Lutheran Malaria Initiative — about half of the Gathering participants rode buses to some 100 off-site Servant Events grouped in three categories of activities: environmental, construction and human care/outreach.
One of those events in the last category was a "prayer journey" into downtown New Orleans, with petitions offered at stops mentioned in a walking guide. Each group on that journey discussed it on their return to the convention center or to one of 40-plus hotels where they were housed.

The value of goods and services donated by Gathering participants is above and beyond the $42 million impact the city's convention and visitors bureau estimated the Gathering had generated in the city.

Jess Kroschel, who accompanied Edgecomb in the "LIVE" room, works with Teen Challenge in Australia, an organization that builds relationship awareness among that age group.

"Servant Events is something we'd like to beef up," Kroschel said of that organization, adding that she would be taking home "many good ideas" from NYG Servant Events. She also said that she was "really impressed" with daily mass events in the Louisiana Superdome, where the entire Gathering throng met for presentations, worship, singing and celebration.

Those mass events were centered on a huge stage under a cross suspended as if in blessing and outlined with metal gridwork holding colored lights that gave it multiple hues throughout those events.

"I've been so impressed with the mass events … how well they are geared toward high-school kids," echoed Elizabeth Buchholz, one of five adults with 17 young people from Mountain View Lutheran Church, Las Vegas.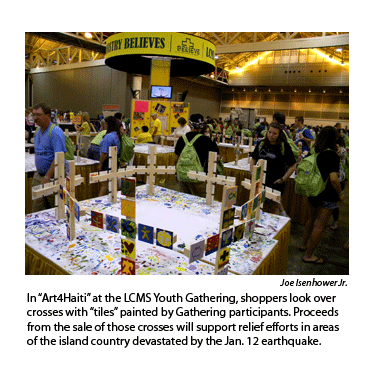 Buchholz said she had picked up helpful information during a Gathering breakout session on planning mission trips — "one thing we would like to do at Mountain View to carry out our outreach beyond the congregation. With the mass events and huge numbers of people here, our youth are impressed, too, with the church beyond our congregation."

"I love the mass events," said Britta Epling, one of Mountain View's young people in New Orleans.

That group raised about $20,000 for their trip to the NYG — through bake sales, car washes, babysitting, running a Fourth of July fireworks sales booth, and several private sponsors.
Idea for India

Dr. Jerry Joseph Joel said he wants to share word of "many positive Gathering experiences" on his return to India, where he is serving his medical residency at Christian Medical College in Ludhiana, Punjab.

A lifelong Lutheran, Joel said the NYG had been "a once-in-a-lifetime experience" that he plans to "talk up" among those in the India Evangelical Lutheran Church, with hopes of "maybe initiating a youth gathering" there.

"Even if it starts with only 100 people attending, God will make it grow if it is His will," Joel said.

He and the Australians were among 52 international guests at the NYG. Their participation was facilitated by LCMS World Mission and church leaders in their countries.

Other activities in the convention center — including Bible studies, performance areas and presentations on an array of topics — were grouped under the areas of "LOOK" and "LISTEN." Those designations, along with "LIVE," also were the titles of three tracks for roughly equal numbers of participants to move through the Gathering program each day in the convention center.

Tyler Owsley and KC Gloe were two young people among 25 others at the Gathering from Hope Lutheran Church, Shawnee, Kan. For both, it was their first Gathering.

"It's so cool to see how many Lutherans there are our age," Owsley commented.

Izaak Probasco, a young attendee among thousands traversing the hallway between convention center venues, used the same word, "cool," to describe his impression of "so many Lutherans" at the Gathering.

Probasco was one of 21 young people accompanied by six adults from St. John's Lutheran Church in Palmer, Alaska — roughly 40 miles north of Anchorage.

That group partially funded their trip adding a New Orleans twist by sponsoring a beignet breakfast cookoff, as well as with car washes, babysitting and donations.

The Alaskans arrived in the Gathering city the week before, helping with the projects connected with Recovery Assistance Ministries' Camp Restore and preparing care packages for the homeless.

Wayne and Tina Enke, adult leaders of 13 youth from Zion Lutheran Church, Bunker Hill, Ill., told Reporter about a memorable experiences that day during a Servant Event in the Ninth Ward, where flooding after Hurricane Katrina had devastated that community.

Backing up to make a turn that would head them out of the area after that event, their bus hit a curb and exposed a burst water pipe, creating a small sinkhole where one of its wheels became stuck. Also, a plastic barrel cone was lodg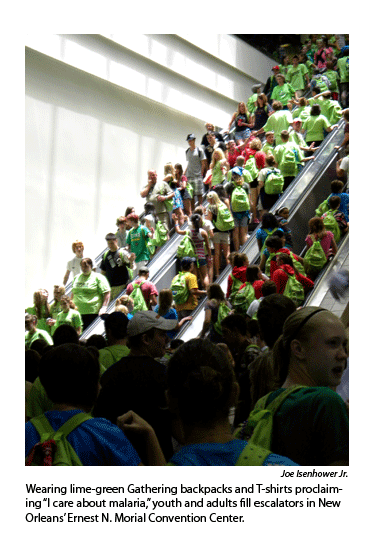 ed under the bus, blocking the door. The group sat there for an hour, until a forklift from a nearby construction project freed the bus from the cone and the sinkhole.

To celebrate, Wayne and another adult leader sprang for a round of ice cream, buying out a passing ice-cream vendor's supply.

Wayne Enke added that he has attended all 11 Youth Gatherings sponsored by LCMS Youth Ministry since 1980.

"This year, we have kids of some of the kids we took to earlier Gatherings, who told their kids 'you gotta go' to this one," he said. "We've never led anyone to a Gathering who didn't say it's one of the best things they've ever done."
Theme: 'WE BELIEVE'

This Gathering's theme was "WE BELIEVE," based on John 20:31, which reads, "But these are written that you may believe that Jesus is the Christ, the Son of God, and that by believing you may have life in his name."

When that theme was announced two years ago, Dr. Terry Dittmer, director of LCMS District and Congregational Services — Youth Ministry, which sponsors LCMS Youth Gatherings, noted, "One of the things that youth always say about the Gathering is how much it means to encounter others who 'believe like I do.' WE BELIEVE is a wonderful corporate expression of our confession as we take that faith to the New Orleans community in Word, celebration, service, witness and fellowship."

Word, witness and celebration were key elements of the daily mass events, when young people shouted out and sang "we believe."

At Saturday's opening night event, Rev. Gregory Manning, who is 96 percent blind, retold the account of the blind man whom Jesus healed.

"He was born blind so that the power of God could be in him," Manning said.

He later told the assembly that God had brought them to the NYG "so that the power of God can be displayed in your life. We're in this place on a journey. We only get one life to say we believe."

At the Sunday mass event, Kellie Stocker of Woodbury, Minn., told how her daughter Makenzie — a talented young ballet dancer with a promising future – had died in a car accident a year ago.

"How do you deal with something like that?" she asked. "If you have such questions, it's OK," she said. "You don't have to have all the answers to experience all His grace. … When everything seems unbelievable there is hope. Jesus will help your unbelief."

During Monday night's mass event, Synod President Dr. Gerald B. Kieschnick and his wife, Terry, addressed the crowd, each speaking words of encouragement to the young men and women about their lives' journies with the Lord. President Kieschnick also alluded to his not being re-elected president at the 2010 LCMS convention in Houston just the week before.

"I'm not sure at this moment what that means for my life in the future," he said. "But these days my focus is on the words of Psalm 27:14 — 'Wait for the Lord; be strong and let your heart take courage; wait for the Lord."

"So, my brothers and sisters in Christ," Kieschnick said to the assembly, "as you continue your journey in life, … know that God will never forsake you. His love for you is strong and certain. He will lead, guide and direct you."

Later at that event, Rev. Matt Popovits of Houston recalled the account of the Samaritan woman who encountered Jesus at the well.

"She felt as empty as the jar in her hand, and Jesus knew it," Popovits said.

"If all you do is drink from the wells of this world thinking it will quench your thirst, it's a lie," he told the audience.
"Your life from the very first has been about Him. When Jesus is the star of the story, He will forgive every [sin] you do."

At Tuesday night's "Divine Service" worship in the Superdome, participants included a youth choir of 250 voices, a wind symphony with 60 young instrumentalists and 34 liturgical dancers — all of whom auditioned for those groups. A re-enactment of Christ's passion featured a procession through the crowd with the lifeless "body" of Jesus on a stretcher after it was removed from the cross, ending with His Resurrection as worshipers lifted the strains of "I Know that My Redeemer Lives."

In his message for that service, Synod Fourth Vice-President Dr. Dean Nadasdy alluded to Jesus appearing to His disciples after the Resurrection, calming their fears with the words, "Peace be with you."

"Jesus said to His disciples and to you tonight, 'Peace be with you,' " Nadasdy said.

"What Jesus wants from each of us when He says [that] is for Him to live with us every day," he continued. "Do you have Jesus with you? … Whatever turmoil is going on, be with Jesus. Even in the midst of 24,000, you can hear the rustle of His robe."

For that service, Holy Communion was served at some 175 stations, from communion ware commissioned for the Gathering and used the week before during communion at the Synod convention.

The Gathering offering collected that night totaled $139,435. That does not include gifts that have come in online or since the Gathering service.

At Wednesday's closing event, Jeffrey Meinz of Colorado Springs, Colo., asked the 24,000 participants, "Is it possible that we've been trained over the last five days to tell the story of Jesus Christ? My prayer is that when you tell the story of Jesus, they believe it, then they tell it, and others believe it and tell it. The story never stops."
Meinz then shouted out as he pointed into the audience, "Are you ready to tell the story? We go home to share the story every day. We believe!"
Posted July 29, 2010