Dr. Richard C. Dickinson is the recipient of the first "Lifetime Achievement Award" given by the Synod's Black Clergy Caucus. The award was presented by caucus members Feb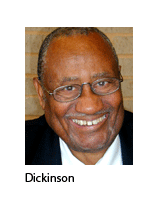 . 4 at Dickinson's home in St. Louis.
Dickinson, 85, served the Synod more than 50 years, retiring from ministry in 1990. He served from 1977 to 1990 as executive director of the LCMS Commission on Black Ministry, predecessor of the Board for Black Ministry Services. Dickinson came out of retirement to serve LCMS World Mission as its global partner church strategy coordinator from 1997 to 1998.
He also has served as an executive with the Northern Illinois District (1971-76), and as pastor of congregations in Alabama, North Carolina, Indiana, Illinois, and Missouri, most recently Great Commission Lutheran Church in St. Louis.
In his 2006 biography, Days in the Life of Dr. Richard C. Dickinson, his family describes him as "a multi-talented man functioning in multiple roles — minister, teacher, musician, poet, hymn writer, author, historian," husband and father, a "soldier of many battles, a military veteran and a warrior of the cross."
Dickinson told Reporter the award was a surprise, and he "appreciated it more than anything."
Also during its Feb. 3-5 meeting in St. Louis, the Black Clergy Caucus elected officers to two-year terms:
Rev. James Wiggins Jr., Washington, D.C., president;
Rev. James McDaniels, Greensboro, N.C., vice president;
Rev. Frank Marshall, Jacksonville, Fla., treasurer;
Rev. Ferry Nye, New Orleans, secretary; and
Rev. Ulmer Marshall Jr., Mobile, Ala., chaplain.
Caucus members heard a report on the Blue Ribbon Task Force on Synod Structure and Governance from LCMS First Vice President Dr. William Diekelman, and discussed their concerns over possible restructuring and the loss of the current Board for Black Ministry Services.
That topic also was discussed in an "open forum" with Synod President Dr. Gerald B. Kieschnick, who assured caucus members that Black ministry "will not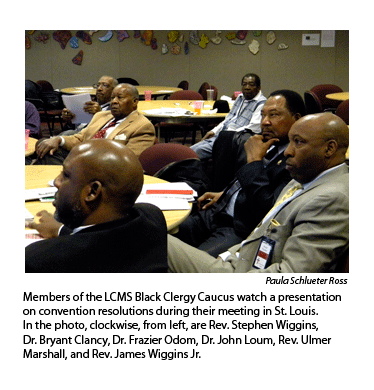 go away," even if the LCMS convention delegates vote to adopt the task force recommendations, which call for a restructuring of the national offices without the current program boards.
There is no reason to believe that, even with restructuring, an African-American would not be part of the Synod's national-ministry staff, Kieschnick said.
The caucus also heard presentations from Dr. James I. Lamb, executive director of Lutherans For Life; Rev. Herbert C. Mueller Jr., president of the LCMS Southern Illinois District; Dr. Kurt Krueger, executive director of the Synod's Board for University Education; and Dr. Tilahun Mendedo, president of Concordia College, Selma, Ala.
Priorities endorsed by the caucus include preserving the Synod's commitment to Black ministry; recruiting — and assisting — more African-American men to become pastors; "revitalizing" the ministries of existing Black ministry congregations that are not growing; and planting more Black ministry congregations.
Posted March 23, 2010