A new 96-page book compiled by the LCMS president's staff summarizes the Synod's position on 50 alphabetized topics — from "abortion" to "worship practices."
Titled This We Believe: Selected Topics of Faith and Practice in The Luthera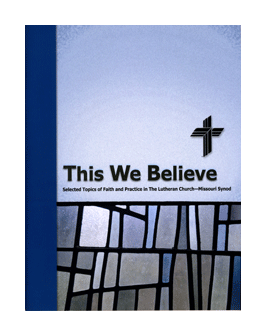 n Church–Missouri Synod, the 8 1/2-by-11-inch book also includes appendices with "A Brief Statement of the Doctrinal Position of the Missouri Synod," "A Statement of Scriptural and Confessional Principles," and the introduction to the Synod president's report to the 2009 LCMS district conventions.
In that convention report introduction, Synod President Dr. Gerald B. Kieschnick enumerates 25 points on which "the LCMS is exceptionally united in what we believe, teach, and confess," while pointing out "matters about which we in the LCMS are not in total agreement," such as the administration of Holy Communion, the service of women, worship forms, and inter-Christian relationships.
A preface by the Synod president's staff notes that Kieschnick and other LCMS leaders are frequently asked about the Synod's position on various topics, "not only by those outside the Synod but [also by] members of the Synod itself, from lay and clergy alike.

"After discussion with numerous individuals throughout the Synod about the need for such a resource as this," the preface continues, "President Kieschnick commissioned his staff to work together with him in putting together a brief summary of the official position of the Synod on important matters of doctrine and practice."

The preface also states that the president and his staff "have sought to distinguish as clearly as possible between those topics officially addressed by the Synod in convention by means of formally adopted doctrinal resolutions and those issues regarding which the Synod has only offered guidance but has no officially adopted doctrinal resolutions."

"It is our prayer," the preface states, "that this volume will serve as a handy and informative reference for congregations, professional church workers, and other church leaders in and beyond the LCMS."
Gratis copies of the book have been sent to all LCMS congregations, seminary faculty members, theology faculty members of the 10 LCMS colleges and universities, members of the Council of Presidents and LCMS Board of Directors, and staff executives of Synod offices.

The 50 topics summarized in This We Believe: Selected Topics of Faith and Practice in The Lutheran Church–Missouri Synod are the following:
abortion;
anti-Semitism;
artificial insemination;
assisted suicide;
birth control (contraception);
capital punishment;
care for the dying;
charismatic teaching;
church growth movement;
civic events, participation in;
cloning;
cohabitation;
confirmation/first communion;
creation/evolution;
cremation;
divorce and remarriage;
environmental stewardship;
euthanasia;
Evangelical Lutheran Church in America, LCMS relationship to;
every-Sunday communion;
gambling;
historical-critical method of biblical interpretation;
homosexual behavior;
immigration;
in vitro fertilization;
intentional interim ministry;
intinction;
lay reading of the Scriptures in worship;
licensed lay deacons;
Lord's Supper, admission to the;
Lord's Supper, common cup/individual glasses;
Lord's Supper, use of wine in the;
ordination of women;
organ donation;
pastor-congregation relationships;
pastoral confidentiality;
pastoral office;
pornography;
prayer in public schools;
racism;
same-sex unions;
Specific Ministry Pastor program;
stem cell research;
tithing;
unity in the church, external;
unity within the Synod;
woman suffrage;
women in the church, service of;
women serving Holy Communion; and
worship practices, guiding principles for.
The Synod publication is available from Concordia Publishing House for $8.99 each for up to five copies, and $6.99 each for six or more. To order This We Believe: Selected Topics of Faith and Practice in The Lutheran Church–Missouri Synod (stock number S14900), call 800-325-3040; fax 800-490-9889; or e-mail cphorder@cph.org.
Posted March 24, 2010