"Making Disciples," LCMS District and Congregational Services (DCS) — School Ministry's "Chapel Talks" for the 2010-11 school year, is expected to be available in July for downloading and in limited quantities in a soft-cover print edition.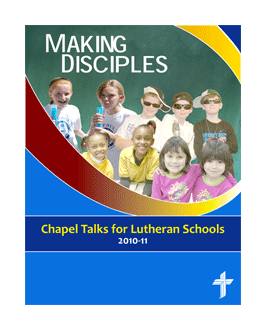 Following the "Three-Year Lectionary Series" as outlined in Lutheran Service Book, "Making Disciples" offers suggestions for weekly songs, visual aids, a message outline and closing prayer that follow congregational orders of worship from the previous weekend (Aug. 22 through June 12). It is especially suitable for worship with students in Lutheran early-childhood centers through middle-school grades. Those who purchase the resource may reproduce material for their schools' worship needs.
"Making Disciples" was written by Lutheran educators and edited by Dr. Edward Grube, director of Publications and Communications for the Lutheran Education Association.
To order the print version ($20) or the downloadable electronic version ($15) through the DCS Online Store, or for a mail-in order form, visit www.lcms.org/?1740.
For more information, call Kathy Fangmann at 800-248-1930, ext. 1285.
Posted June 16, 2010