Concordia University Chicago invites the public to join its faculty, staff and students for a free workshop exploring the principles of "servant leadership" and "why traditional top-down leadership is no longer appropriate or effective for most contemporary organizations."
The workshop is scheduled for 6 p.m. Oct. 11 in the Chapel of Our Lord on the university's campus in River Forest, Ill. Free parking is available.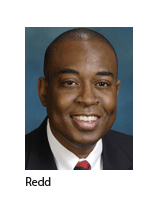 Leading the workshop will be Kelvin A. Redd, director of the Center for Servant Leadership at the Pastoral Institute in Columbus, Ga., and author of Stand Tall: Essays on Life and Servant Leadership.
Redd says he believes that servant leaders can transform the world. Supporting the Concordia, Chicago, mission to equip men and women to serve and lead with integrity, creativity, competence and compassion, he will show how the principles of servant leadership provide a foundation for a rapidly changing world.

Redd will challenge participants to explore how they can become servant leaders. Servant leadership, he says, is a lifelong journey that includes discovery of one's self, a desire to serve others and a commitment to lead.

The workshop will use examples from practical and real-life experiences to engage participants in discussions, reflections and applications of servant leadership. Participants will discuss the origin and philosophy of servant leadership and why the world needs servant leaders.
"When leaders seek to meet the highest priority of needs of followers, synergy can result and goals can be surpassed," Redd says.

Two continuing professional development units (CPDUs) are available for teachers attending this event, and pre-registration is not necessary.
For more information, contact Amanda Hauser at 708-209-3478 or amanda.hauser@cuchicago.edu.
Posted Sept. 29, 2010