High-school sophomores, juniors and seniors who are interested in learning more about church professions a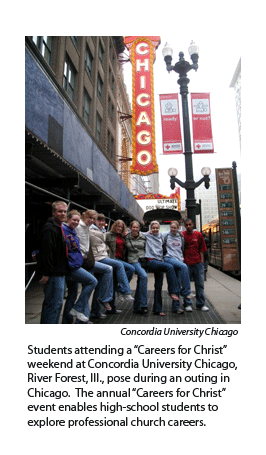 re invited to attend the annual "Careers for Christ" weekend Nov. 5-7 at Concordia University Chicago.
"Boldly Serving the Servant" is the theme for the 2010 weekend coordinated and led by Concordia, Chicago, students and staff. The weekend begins at 6 p.m. Nov. 5 and concludes Nov. 7 after worship and brunch on the university's campus at 7400 Augusta St., River Forest, Ill.
The weekend's events will include career sessions, a service activity and an outing in Chicago.
Areas of study to be explored are teacher education, pre-seminary studies and preparation for careers as deaconesses, directors of Christian education and directors of parish music. All are undergraduate programs offered at Concordia, Chicago.
Registration is $60 and includes meals, housing, activities, materials and a T-shirt. Deadline for registrations is Oct. 22.
For more information, contact John Korntheuer at john.korntheuer@cuchicago.edu or 708-209-3472.
To register, visit www.cuchicago.edu/c4c.
Posted Oct. 13, 2010