Concordia Publishing House opened its newest campus bookstore Sept. 2 at Concordia College — New York, Bronxville, N.Y.
CPH also operates stores at Concordia University campuses in Ann Arbor,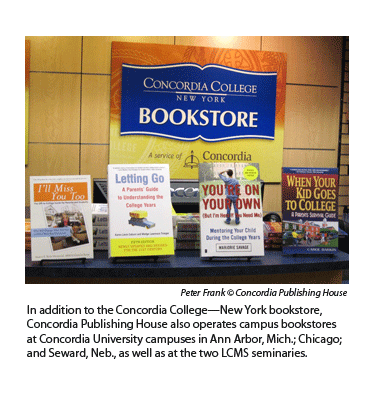 Mich.; Chicago; and Seward, Neb., as well as at the two LCMS seminaries in St. Louis and Fort Wayne.
"CPH wants to get to know the students at the 10 schools in the Concordia University System, and our bookstores provide a great front-line way to do that," said Dr. Bruce Kintz, CPH president and chief executive officer. "We are experts at bookstore operations and look forward not only to providing top-tier service for faculty, students and local communities near the stores, but also to forming new connections with customers, who are really important to us."
In addition to on-campus customers, local congregations and individuals are welcome to place orders for CPH products and services at the campus stores without incurring shipping costs.
For more information about CPH products and services, visit www.cph.org.
Posted Sept. 15, 2010