Undeterred by heat approaching 100 degrees, Concordia Publishing House employees handed out 433 backpacks filled with school supplies and Christian book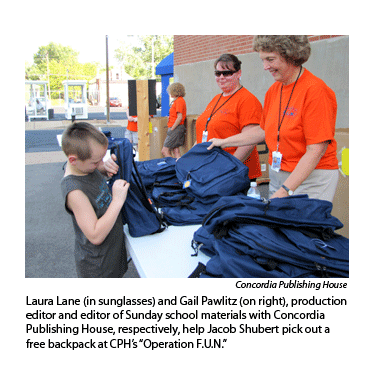 s to neighborhood children and their families during the publisher's "Operation F.U.N. [For a United Neighborhood] — Tools for Schools" event Aug. 4.
This is the 15th year CPH has reached out to its South St. Louis neighbors — many of whom have limited incomes — by offering gifts, food and drinks. While in earlier years the event offered games, prizes and entertainment, this is the second year it has focused on providing back-to-school supplies.
Those supplies were appreciated "so much" by Michelle Pribble and her daughters Brianna, 9, and Shayna, 2, members of St. John Lutheran Church in St. Louis.
"It's awesome, it's terrific," said Pribble, who has brought her girls to Operation F.U.N. for the past three years. They look forward to it, she said.
Brianna said she's excited to be starting fourth grade, and especially likes the backpack of supplies — which included such staples as notebooks, folders, regular and colored pencils, scissors and a ruler, along with a CPH book: David and Goliath.
Her little sister, Shayna, held tight to assorted freebies and a stuffed lamb that she already had named "Shay," after herself.
Also attending for the third year was Ramona Fortner, who had brought two of her three granddaughters she's been raising since their mother died.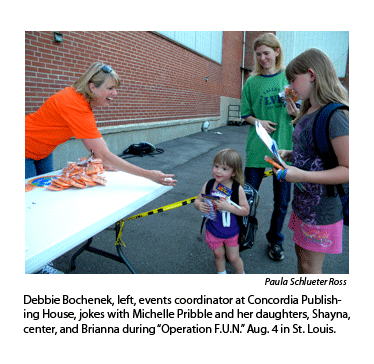 The CPH event, Fortner said, makes her "so proud of St. Louis" because it's "something positive."
"These kids need all of this," she said, gesturing to the tables of supplies, and it's "absolutely" a big help to her, as the girls' guardian. "I really, really appreciate it. Do you know how much this stuff costs?"
Jonathan Schultz, the publisher's vice president and corporate counsel, said CPH employees also look forward to the annual event because it gives them an opportunity "to actually do ministry and outreach, and share the Gospel with real people in our neighborhood." In addition to serving as Operation F.U.N. hosts, many of the 250 employees also donated supplies for the backpacks.
The 141-year-old publishing house has "made a commitment," Schultz said, to stay in the neighborhood and be a visible presence. And Operation F.U.N. "is one of those real tangible ways we can do that."
In addition to the backpacks — which held age-appropriate school supplies and books for children in preschool, kindergarten through Grade 2, Grade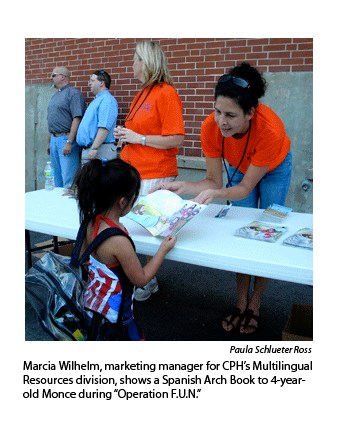 s 3 and 4, Grades 5 and 6, and Grades 7 and 8 — CPH offered Spanish Arch Books and resources for bilingual and Spanish-speaking residents.
Also manning information tables at the event were representatives of local entities — the Gene Slay's Boys Club of St. Louis, the St. Louis Public Library and Lead Safe St. Louis.
Local Alderman Craig Schmid also attended, and commended CPH and its employees "for their commitment to their South St. Louis location … and to this quality, family-friendly event."
Schultz says Operation F.U.N. will continue "as long as one child shows up." In spite of the heat, he added, "it still puts smiles on people's faces."
Posted Aug. 12, 2010