Concordia Publishing House (CPH) and Lutheran Hour Ministries — both based in St. Louis — are offering daily devotions for the season of Advent, which begins Sunday, Nov. 28.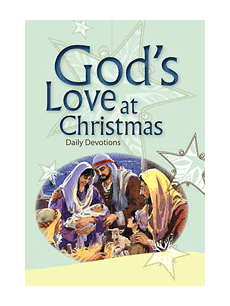 Booklets available from CPH are:
God's Love at Christmas: Daily Devotions ($2.29, item no. 124358WEB), a 32-page Advent/Christmas booklet that offers daily devotions through Christmas Day.
Away in a Manger Devotional Book ($2.29, item no. 124308WEB), which offers 29 mediations designed to explore the promises of the Messiah found in the Book of Isaiah and their fulfillment in Jesus Christ.
Come, Lord Jesus: Daily Devotions for Advent (99 cents, item no. 124315WEB), a 32-page booklet that includes 29 devotions, an order of family worship and suggestions for making an Advent wreath.
Savior of the Nations Devotional Book ($2.29, item no. 124310WEB), which reflects the biblical imagery of the hymn "Savior of the Nations, Come." Each of the 29 devotions offers a scriptural focus and meditative discussions of related topics.
To order any of these booklets, call CPH at 800-325-3040 or visit www.cph.org/c-301-christmas.aspx. Prices quoted do not include shipping.
New Advent devotions from Lutheran Hour Ministries (LHM) are:
Home for the Holidays, which highlights how God is with us in His Word, baptism and sacraments throughout our lives and points to the future home that awaits believers. It will be available in audio format beginning Nov. 26.
Over the Static, which tells the story of an unchurched man who uses his video blog and what he learns from his family, friends and coworkers during the weeks between Thanksgiving and Christmas to wrestle through the issues Christ's birth raises for his life. In an effort to reach a younger, unchurched audience, LHM is making the video blogs available at www.overthestatic.com and on YouTube.
Un Adviento Radical (Radical Advent) is a Spanish devotion designed to illuminate the timeless story of "God's radical gift to the world" — the birth of His son.
LHM's devotions also are available in PDF format so that congregations may download, print and customize them with contact information and service schedules.
To download any of these free resources, visit www.lhm.org/advent.
Posted Nov. 24, 2010