Concordia Publishing House is offering a Starter Kit and a "Super Duper" Starter Kit for Planet Zoom, its 2010 vacation Bible school program.
In the weeklong program, children are introduced to "Scout," a bee in the Planet Zoom hive, and four other bee friends who guide them through Bible stories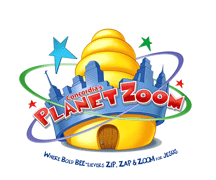 that are designed to teach them to be "bee-lievers" of Jesus.
"Planet Zoom is, hands down, our best VBS yet," said Andrew Swenson, CPH's VBS marketing manager. "Kids are going to love the new activities and volunteers are going to love that it's truly easier than ever to use."
New this year are "Grab and Go" lessons that require minimal preparation time and feature separate leader packs for each of Planet Zoom's activity sites (Bible storytelling, crafts, games, Bible challenge, and snack). Each pack features a leader guide and daily lessons.
The Starter Kit ($79.99, item no. 321043WEB) includes an overview and training DVD, leader guides, Bible packs, skit books, and samples of VBS items.
The "Super Duper" Starter Kit ($169.99, 321041WEB) also has the directors guide on CD-ROM, a song-action DVD, and more samples, including a puppet, balloons, and posters.
Also available, free of charge, is a downloadable recruitment kit that offers strategies for recruiting adult volunteers and includes job descriptions. New this year is an adult volunteer recruitment video included in the overview DVD.
A publicity kit that includes sign-up sheets and fliers that can be customized by congregations also is available for free downloading.
"The program promises to be a whole new world of VBS, where little is big and children learn about the difference they can make by sharing God's love," states a CPH press release.
"Children need to know that being 'little' doesn't mean they can't make a difference," added Swenson. "At Planet Zoom, little is big, and that is a message that every child needs to hear."
To order the Starter Kits and other VBS items, visit www.cph.org/planetzoom or call 800-325-3040.
Posted March 17, 2010