By Paula Schlueter Ross
It's said that nothing is certain except death and taxes, but perhaps it's time to add to that list "Concordia University System enrollment growth."
This fall marks the 18th consecutive year that total enrollment at the Synod's 10 Concordia University System (CUS)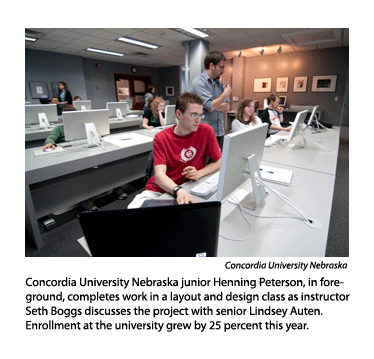 schools has grown, hitting a record high of 27,454 graduate and undergraduate students — an increase of 1,938 students, or 7.59 percent, according to CUS staff.
That 7 percent growth is consistent in both graduate and undergraduate programs. The number of graduate students grew by 7.7 percent — from 11,664 last year to 12,565 this year, an increase of 901 students. Undergraduate enrollment is up by 7.5 percent — from 13,852 to 14,889, an increase of 1,037 students.
A particularly bright spot in this fall's enrollment figures is that the number of students preparing for church vocations also is rising — for the first time in five years. That figure — 1,954 — represents an increase of 54 students, or 2.8 percent, since fall 2009.
Among church-work programs, teaching gained the most students — from 1,192 last year to 1,266 this fall, an increase of 74 students, or 6 percent. Other gains were recorded in director of parish music (32, up 13), deaconess (31, up 5), pre-seminary (248, up 3) and director of Christian outreach (19, up 1) programs.
Dr. Alan Borcherding, interim president of the CUS, said he encourages the LCMS "to thank the Lord for the opportunity to provide a system of higher education that not only prepares workers for the church but also influences life in local communities."
Dr. William Meyer, director of the Synod's For the Sake of the Church campaign to increase endowment funds at the 10 CUS schools, said he believes that students are beginning to see church-work positions as "more stable in this economic environment in which jobs are hard to come by." Salaries, too, he said, seem to be increasing as congregations realize the importance of hiring well-trained church professionals.
The Christian, Lutheran environment of the CUS schools also influences students, Meyer noted. "We know that a lot of students come into a Concordia with no intent to become a professional church worker, but who, after a year or two, get connected and ultimately move in that direction," he told Reporter.
Church-work students typically receive close to half their tuition in scholarship aid, according to Borcherding. Tuition and fees at CUS schools range from a low of $7,370 at Concordia College, Selma, Ala., to a high of $27,400 at Concordia, St. Paul, Minn., with an average of some $22,000 per year.
The schools also offer training for a variety of secular careers, including business, communications, computers, engineering,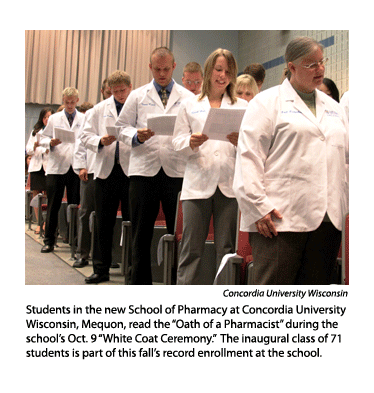 healthcare, law, recreation and fitness, and visual and performing arts.
Concordia University Wisconsin (CUW) opened its new pharmacy school to 71 students this fall — turning away 670 others who had applied for admission to the program. That inaugural class contributed to the school's record enrollment of 7,485 — an increase of 307 students, or 4 percent, and the highest enrollment at any CUS school.
CUW's $12.5 million School of Pharmacy building is under construction on its Mequon, Wis., campus and is expected to be completed by next summer.
Concordia, Mequon, also leads other CUS schools in the number of students enrolled in church-work programs — 631, an increase of 66 students, or almost 12 percent, over last year.
Kudos also are in line for Concordia University Nebraska, Seward, Neb., which saw its enrollment grow by 25 percent in the past year — from 1,717 in 2009 to 2,146 this year, an increase of 429 students.
Its president and CEO, Dr. Brian L. Friedrich, said enrollment in the school's College of Graduate Studies has increased by more than 500 students in the past two years.
"What was, until recently, a very modest part of our total enrollment has prospered and inspired plans for continued outreach to those searching for a Concordia education as adult learners," Friedrich told Reporter via e-mail. "Concordia University Nebraska now has over 800 students enrolled in graduate or other adult-education coursework at our new Lincoln campus, at other sites in Nebraska (including Columbus, Grand Island and Omaha) or in online programs."
Friedrich said he and other school administrators are "pleased and thankful" for the increase in enrollment.
"Given the population base and demographics of Nebraska and the states that surround it, college enrollment growth of any sort doesn't come easily," he s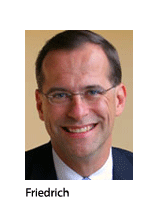 aid. "Our mission is to equip men and women for lives of learning, service and leadership in the church and world. Enrollment growth seems to indicate that the Lord is blessing those efforts right now by allowing us to expand that mission to more people."
Added Friedrich: "We thank God for His continued and abundant blessings. Preparing more students today means we will continue to be a wellspring for our church and for the world tomorrow as students are sent forth to live and proclaim the Good News of Jesus Christ."
This fall's enrollments — including both graduate and undergraduate students — at individual CUS schools are as follows:
Concordia University, Ann Arbor, Mich. — 668 (a decrease of 79 students, or 10.5 percent, over fall 2009).
Concordia University Texas, Austin — 2,573 (up 329, or 15 percent).
Concordia College, Bronxville, N.Y. — 777 (up 73, or 10 percent).
Concordia University, Irvine, Calif. — 2,969 (up 405, or 16 percent).
Concordia University Wisconsin, Mequon — 7,485 (up 307, or 4 percent).
Concordia University, Portland, Ore. — 2,114 (up 213, or 11 percent).
Concordia University Chicago, River Forest, Ill. — 5,223 (up 174, or 3 percent).
Concordia College, Selma, Ala. — 657 (up 61, or 10 percent).
Concordia University, St. Paul, Minn. — 2,842 (up 26, or 1 percent).
Concordia University Nebraska, Seward — 2,146 (up 429, or 25 percent).
For more information about LCMS colleges and universities — and professional church-work careers — visit the website of LCMS University Education at www.lcms.org/?886.
Posted Nov. 18, 2010