HOUSTON—In three separate resolutions, convention delegates of the 64th Regular Convention of The Lutheran Church—Missouri Synod, meeting this week at the George R. Brown Convention Center,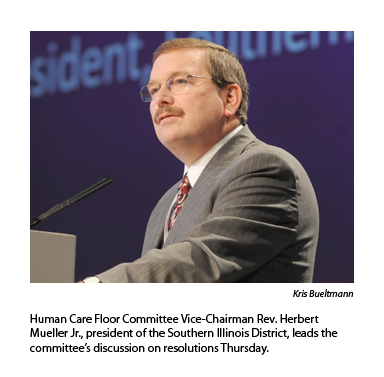 voted overwhelmingly to uphold the sanctity of life, support efforts to end human trafficking/slavery and combat malaria. The resolutions were presented by Floor Committee 6 (Human Care).
In Resolution 6-02A, "to be a light for life," delegates voted by more than 94 percent (1,010 in favor, 64 against) to denounce any legislation or action that supports or funds abortion; to work with local crisis pregnancy centers; to support LCMS members currently involved in elective and legislative processes; and encourage more LCMS members to become involved in the governmental process.
Resolution 6-07A, "to support efforts to end human trafficking/slavery," directs the Synod president to write a letter to the United Nations Office on Drugs and Crime, expressing support for that office's efforts to end human trafficking/slave trade. It also directs the Board for National Missions to provide LCMS pastors and congregations with information about this practice in order to educate them and encourage them to become proactive in their response. Delegates adopted the resolution 1,080 to 33 (more than 98 percent).
Adopted by a vote of 1,047 to 19 (more than 97 percent), Resolution 6-04A, "to combat malaria," encourages the Synod through its agencies, congregations, schools, universities and seminaries to support the Lutheran Malaria Initiative (LMI)—a collaborative effort to mobilize the nearly 8 million Lutherans in the United States to join in the battle against malaria. The resolution also commits the Synod to support the LMI goals of education, advocacy and fundraising to prevent and contain malaria.
The convention is meeting under the theme "ONE People–Forgiven." Among the approximately 3,000 participants are some 1,200 clergy and lay voting delegates.
Posted July 15, 2010