Adriane Dorr of Fort Wayne, Ind., began work June 21 as managing editor of The Lutheran Witness with the LCMS Board for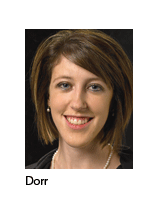 Communication Services (BCS).
Dorr, 26, is a 2005 graduate of Concordia University Wisconsin, Mequon. In May, she received a master of arts from Concordia Theological Seminary, Fort Wayne, where she also held several administrative positions, served as a copy editor for Life of the World and other publications, and assisted with additional editorial projects. Most recently, she helped to coordinate the seminary accreditation self-study document and the on-campus accreditation visit.
Since 2005, Dorr has served as assistant editor and then managing editor of Higher Things magazine, an LCMS Recognized Service Organization through the Board for District and Congregational Services. From 2005 to 2009, she also was the Christian life editor of Lutheran Woman's Quarterly, a publication of the Lutheran Women's Missionary League. Her work has appeared in Portals of Prayer and The Lutheran Witness, as well.
"We are delighted to welcome Adriane to our staff," said James Heine, BCS director of News and Information. "She brings a great perspective and a special set of gifts to the position, and she will be a genuine blessing to the church as the managing editor of The Lutheran Witness."
"I'm humbled to be joining such a talented and dedicated team at The Lutheran Witness, which has been influential in sharing the Gospel with the people of The Lutheran Church–Missouri Synod for generations," said Dorr. "It is my hope that this publication will continue to thrive as the leading voice in teaching future generations to contend for that same faith."
As managing editor of The Lutheran Witness, Dorr succeeds Heine, who accepted the director of News and Information position in January.
Posted July 1, 2010