Dr. Erwin J. Kolb, executive director of the Synod's Board for Evangelism Services from 1972 until his retirement in 1989, died July 26 in Milwaukee after several years of declining health.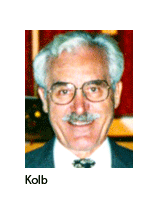 A memorial service took place July 30 at Luther Manor retirement community in Milwaukee.
Dr. Kolb, 85, was in hospice care there at the time of his death of complications from congestive heart failure and aspiration pneumonia. He and his wife, Bernice, lived at Luther Manor.
A second memorial service is planned for 11 a.m. Aug. 23 at Zion Lutheran Church, Bethalto, Ill., where Dr. Kolb was pastor from 1953 to 1961. A luncheon will follow the service.
A 1949 graduate of Concordia Seminary, St. Louis, Dr. Kolb also served other pastorates in Illinois at Concordia Lutheran Church, Cottage Hills (1949-51); Hope Lutheran Church, Highland (1951-53); and Trinity Lutheran Church, Centralia (1961-63). He also was dean of the chapel, dean of men, and associate professor of theology from 1962 to 1972 at Concordia Teachers College (now Concordia University Nebraska), Seward. He earned a doctorate from the St. Louis seminary in 1967.
Dr. Kolb was a prolific author and frequent speaker on evangelism and outreach. He edited a number of Synod publications at various times, including Concordia Pulpit Resources and Evangel-Gram, and directed the Synod's first Great Commission Convocation in 1980.
He served active duty in the U.S. Marine Corps (1945-47) and was a chaplain in the U.S. Army — from 1950 until his retirement in 1979 with the rank of Colonel.
In addition to his wife, Bernice (nee Homm), survivors include three children — Kathryn (Joseph) Sauer of Whitefish Bay, Wis., Rev. Peter (Mary) Kolb, Palm Harbor, Fla., and Denise Kolb of Seattle, Wash.; five grandchildren; one great-grandchild; and a sister, Doris (Ralph) Horton of San Diego, Calif.
Kathryn Sauer wrote to family and friends on July 28 about her father, as follows: "He left us with wonderful memories and values of faith in God, love of country, value of family closeness and love of each other. … He was our patriarch and we miss him."
The family suggests that memorials be given to Concordia Seminary, St. Louis, or to LCMS World Mission.
Posted July 29, 2010