Dr. Norman E. Barth, who led Baltimore-based Lutheran World Relief (LWR) for 12 years, died Nov. 15 in Sioux Falls, S.D. He was 83.
A memorial service was held Nov. 19 at Gloria Dei Lutheran Church, Sioux F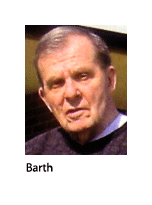 alls, a congregation of the Evangelical Lutheran Church in America.
Dr. Barth served as executive director of LWR, then based in New York, from 1981 until his retirement in 1993. Under his leadership, LWR in 1986 became the first church-related relief and development agency to win the Presidential End Hunger Award. The citation from President Ronald Reagan recognized LWR's work in responding to emergencies and promoting sustainable development, making special reference to LWR's role in "aiding victims of famine on both sides of the Ethiopian civil war."
During Dr. Barth's tenure, LWR played a significant role in the Emergency Relief Desk (ERD), an alliance of faith-based aid agencies established in Sudan in 1981 to deliver humanitarian assistance across the border into war-torn areas of Eritrea and Ethiopia where no government assistance was available. LWR and the other ERD members worked with indigenous relief agencies to deliver aid to suffering civilians on both sides of the battle, reaching populations not served by any other relief efforts. The groundbreaking humanitarian effort continued for a decade.
"I learned so much about leadership from watching Norman in action," said Kate Wolford, who succeeded him as president in 1993 and served until 2007. "He was principled and pragmatic, willing to ruffle feathers when necessary to deliver humanitarian aid more effectively."
Dr. Barth led LWR in a shift "from doing the work directly to supporting local and often nascent non-governmental organizations, back when that was considered risky and rare among international aid groups," Wolford added. "Norm set high expectations for himself, for his staff and for our local partners; we had such respect for him that we never wanted to let him down."
Current LWR President and CEO Dr. John Nunes said, "I stand in leadership at Lutheran World Relief on the shoulders of heroes of God's justice and mercy –heroes like Norman Barth." Nunes called Dr. Barth "an extraordinary force for good and for the sake of the life of the world, a man whose magnanimous accomplishments for the sake of the world's marginalized continue to make a difference in people's lives."
Prior to joining LWR, Dr. Barth spent nearly 25 years as a career diplomat with the U.S. Foreign Service, occupying posts in three European and two African countries.
Survivors include his wife, Janet (nee Hellie), four children — Jeffrey (Sherrie) Barth, Carol (Tim) Stoddard, Norman H. (Pamela) Barth and William (Teresa Grettenberg) Barth; seven grandchildren; and three great-grandchildren.
Memorials may be directed to the Lutheran World Relief Norman E. Barth Memorial Fund, P.O. Box 17061, Baltimore, MD 21298; or to the Luther College, Janet and Norman E. Barth Scholarship Fund, 700 College Drive, Decorah, IA 52101.
Posted Nov. 18, 2010