Dr. Richard C. Dickinson, a longtime Black ministry leader in The Lutheran Church–Missouri Synod, died April 17 of cancer at his home in St. Louis. Dickinson, 85, was diagnosed with the disease about 14 months ago.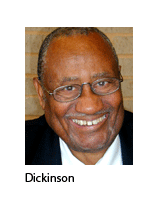 A funeral service was held April 23 at Grace Lutheran Church in St. Louis.
On Feb. 4, Dr. Dickinson was the recipient of the first "Lifetime Achievement Award" given by the Synod's Black Clergy Caucus. In a story in the March issue of Reporter, Dr. Dickinson said the award was a surprise and he "appreciated it more than anything."
Dr. Frazier Odom, interim executive director of the LCMS Board for Black Ministry Services and Dr. Dickinson's brother-in-law (they married sisters) and "close friend," called him "the kindest man you will ever find" and said he was "gifted" in "so many different things."
"God has used him in a special way, not only in taking care of his own life business but in working with the church," Odom told Reporter, and during his entire career Dr. Dickinson's "mind and heart" were focused on "gaining men for the ministry." In fact, a paper Dr. Dickinson wrote recently on recruitment will be discussed at the Black Ministry Family Convocation this summer in Houston, Odom said.
LCMS President Dr. Gerald B. Kieschnick said Dr. Dickinson's death "marks the departure of one of the foremost African American leaders in the history of The Lutheran Church–Missouri Synod."
Kieschnick called Dr. Dickinson "a visionary man, with a heart for the Gospel of Christ" and said "his ready smile and evangelical spirit will be missed by many.
"His God-given gifts and talents enabled him to provide leadership across the Synod, greatly assisting LCMS people to understand and take to heart the meaning of St. Paul's words to the church in Galatia: 'For you are all sons of God through faith in Christ Jesus. For as many of you as were baptized into Christ have put on Christ. There is neither Jew nor Greek, there is neither slave nor free, there is neither male nor female; for you are all one in Christ Jesus' (Gal. 3:26-28)."
Dr. Dickinson served the Synod for more than 50 years, retiring from ministry in 1990. He served from 1977 to 1990 as executive director of the LCMS Commission on Black Ministry, predecessor of the Board for Black Ministry Services. Dr. Dickinson came out of retirement to serve LCMS World Mission as its global partner church strategy coordinator from 1997 to 1998.
He also served as an executive with the Northern Illinois District (1971-76), and as pastor of congregations in Alabama, North Carolina, Indiana, Illinois, and Missouri, most recently Great Commission Lutheran Church in St. Louis.
In his 2006 biography, Days in the Life of Dr. Richard C. Dickinson, his family describes him as "a multi-talented man functioning in multiple roles — minister, teacher, musician, poet, hymn writer, author, historian," husband and father, a "soldier of many battles, a military veteran and a warrior of the cross."
Survivors include his wife, Blanche, and children Richard (Elritta) C. Dickinson Jr., of Chicago, and Bernard (Melody) D. Dickinson, Deborah (Wayman) Mitchell, and Rev. Dwight (Valerie) E. Dickinson — all of St. Louis.
Plans are under way to establish a "Richard C. Dickinson Recruitment Fund for Black Professional Church Workers" in memory of Dr. Dickinson. More information will be shared when it becomes available.
Posted April 19, 2010