Dr. Walter Theophilus "Ted" Janzow, former LCMS district president and college and seminary president, died Aug. 21 in Lincoln, Neb., at the age of 91.
His funeral will be held Aug. 26 at St. John Lutheran Church in Seward, Neb.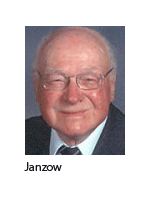 Dr. Janzow served as president of the Synod's Southern Illinois District from 1957 to 1959. He was a professor of sociology and religion from 1959 to 1962, and was chairman of the Religion and Social Sciences Division at Concordia Teachers College (now Concordia University Nebraska) in Seward, serving as president of the school from 1963 to 1977, and as director of college relations from 1977 to 1983.
Dr. Janzow also served as the founding president of Concordia Lutheran Seminary in Edmonton, Alberta, Canada, from 1983 to 1987.
Dr. Edward Kettner, academic dean and professor of systematic theology at the seminary, described Dr. Janzow as "a very gracious human being. He was concerned with academic integrity — the creation of pastors who saw themselves truly as servants of the Gospel and of the people of God."
"Ted," as Kettner knew him, "was always willing to listen to people's concerns, and responded winsomely," he said.
According to an obituary in the Lincoln Journal-Star, Dr. Janzow will be remembered "as a gregarious encourager of others, with a fun sense of humor, a gift for telling stories, an addiction to the game of golf and a lover of God, his family and friends."
A 1944 graduate of Concordia Seminary, St. Louis, Dr. Janzow also earned an M.A. from Southern Illinois University, Carbondale, Ill., and a Ph.D. from the University of Nebraska, Lincoln. He received an honorary Doctor of Divinity degree in 1965 from Concordia Theological Seminary, then in Springfield, Ill.
Dr. Janzow's wife, Frances, died in 2006. They were married 64 years. Survivors include four children — Fred (Susan) Janzow of Cape Girardeau, Mo.; Frank (Janice) Janzow, Waukesha, Wis.; Kathy (Dan) Kapke, Lincoln, Neb.; and Daniel Janzow, Lincoln, Neb. — six grandchildren and six great-grandchildren.
Memorials may be made to Concordia University Nebraska, Seward, or Concordia Lutheran Seminary, Edmonton.
Posted Aug. 25, 2010