Author, historian and speaker Dr. Paul Maier will be the main presenter at "LutherHostel 2010," Oct. 2-5 at Concordia Seminary, St. Louis.
LutherHostel — for adults age 55 and older — is designed to increase biblical knowledge and understanding and provide helpful insights for daily living, while promoting fun and fellowship.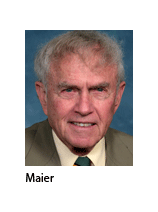 Under the theme "Christ or Caricature?," Maier's presentations will focus on the various depictions of Christ, including that from Dan Brown's popular novel The Da Vinci Code.
Maier is the Russell H. Seibert Professor of Ancient History at Western Michigan University, the Synod's second vice president, and the author of both scholarly and popular works, including A Skeleton in God's Closet.

LutherHostel 2010 also will feature a reception and dinner with Concordia Seminary President Dale Meyer and his wife, Diane; class visits; student-led evening devotions; opportunities for interaction with faculty; a private demonstration of the organ in the seminary's Chapel of St. Timothy and St. Titus; and a tour of St. Louis-area sites. An optional tour of Lutheran historical sites in Perry County, Mo., is available to participants after LutherHostel, on Oct. 6.

Registration is $325 per person, which includes all meals and refreshments. Housing is available on campus (on a limited basis, for an additional cost) or in nearby hotels. The registration deadline is Sept. 20.

For more information about LutherHostel, contact the seminary's Office of Continuing Education and Parish Services at 314-505-7486 or ce@csl.edu.
Posted June 10, 2010