As the remnants of Tropical Storm Nicole passed along the Eastern Seaboard in early October, heavy amounts of rainfall caused flooding throughout the states served by the Synod's Southeastern District.
For the third time in less than a year, Crossway Church, an inner-city LCMS ministry located in downtown Norfolk, Va., had water in its sanctuary.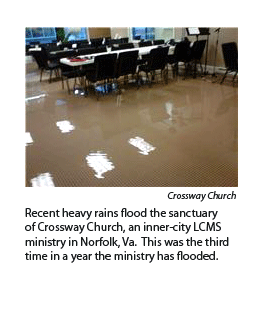 With 9 inches of rain pelting the city in two days, Rev. Timothy Utton arrived Thursday at the leased space that houses the ministry and "noticed water glistening from the floor through the windows. There was a solid 2 inches of water throughout the entire church. I opened up the front door and the water gushed out and drained for 4 hours until another deluge hit and it filled up again."
Last November, a storm came through the city, flooding the church and causing much damage to the property, including the loss of 90 percent of Utton's library.
"The Southeastern District was very generous in helping cover some of the costs associated with that flood," he said, "and I have appreciated that greatly."
And, this past summer, an unpredicted storm dumped large amounts of rain in a short period of time, again flooding the church.
"There are areas in Norfolk which flood quite easily, either because the streets are not being able to handle the amount of water coming down or being built below water level. The flooding at our church space appears to be more of the first issue," Utton told Reporter.
Other than the carpet and walls, there was no damage to any of Crossway's materials from the latest flood, but Utton said the staff is "extremely concerned about the air quality of the space." So the church is moving to drier ground.
"As of right now we have closed our doors at this current location and are actively packing up the place," he said. "The space that we are now looking at, which is still downtown, will require some funds to renovate and make it usable for the ministry."
Utton said he hopes to have the move completed in October and to "relaunch" the church in November.
"The members of the church are, amazingly, not discouraged about these events," he added. "It has been great to see the tremendous faith of the membership to know that God is working out His plan for the ministry, even through this."
LCMS World Relief and Human Care's Director of Disaster Response, Rev. Glenn F. Merritt, and Director of Districts and Congregations, Rev. Carlos Hernandez, have been in contact with Crossway Church and the Synod's Southeastern District to offer assistance related to the recent flooding.
Posted Oct. 7, 2010