Dr. Eldor W. Meyer, president of the LCMS Nebraska District from 1978 until 1991, died June 16 at his home in Girard, Kan., of complications from Parkinson's disease. He was 81.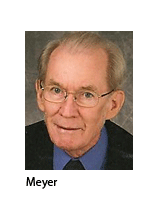 The funeral service was June 19 at Trinity Lutheran Church in Girard, with committal following at the Girard Cemetery.
He was pastor of Trinity, Girard, from 1993 until his retirement in 1998, after which he and his wife remained members of the congregation.
Dr. Meyer first was pastor of a triple parish at Hollandale, Blooming Prairie and Lansing, Minn. (1964-66), and then was campus pastor at Kearney State College, Kearney, Neb. (1966-71). He next served as senior pastor/director of ministries at Trinity Lutheran Church, Grand Island, Neb., from 1971 to 1978.
He was the Nebraska District's second vice-president (1974-76) and first vice-president (1976-78) before his election to four terms as district president.
"Eldor Meyer will be remembered as a very fine parish pastor, campus pastor, and supportive district president," LCMS Nebraska District President Rev. Russell Sommerfeld told Reporter.
"He was a tireless worker who also had a love and passion for rural and small-town ministry," Sommerfeld said. He added that Dr. Meyer's "work in 1994 on a groundbreaking study and report on engaging the rural and small-town mission field continues to influence our efforts in Nebraska and in the LCMS National and Small-town Mission Initiative."
"Dr. Eldor Meyer will have a profound and lasting effect on rural ministry througout the Synod long after his time," said Kansas District President Rev. Keith Kohlmeier.
A 1964 graduate of Concordia Theological Seminary, Springfield, Ill., Dr. Meyer's undergraduate degree in agricultural engineering in 1951 was from Oklahoma State University, Stillwater, Okla. He also earned a master's degree in education psychology from Kearney State College, Kearney, Neb., in 1970. Concordia Seminary, St. Louis, awarded him an honorary doctorate in 1981.
Dr. Meyer's survivors include his wife of 58 years, Edna (nee Honer), of Girard; four children – Dorene (Roy) Niederklein, Girard; Marilyn (Jay) Yost, Girard, Delois (David) Laverentz, Leawood, Kan.; W. Stan (Stephanie) Meyer, Scottsdale, Ariz.; 11 grandchildren; four great-grandchildren; two brothers – Dr. Del Meyer, Carmichael, Calif. and Dr. Raymond Meyer, Falls Church, Va.; and a sister, Nelda Schoennauer, Medford, Ore.
The family suggests that memorials be given to Trinity Lutheran Church, 109 W. Saint John St., Girard, KS 66743.
Posted June 18, 2010