By Roland Lovstad
Since retiring in 1998 as principal of Zion Lutheran School in Harvester, Mo., James Brackman has volunteered his time to build an endowment fund to assist sch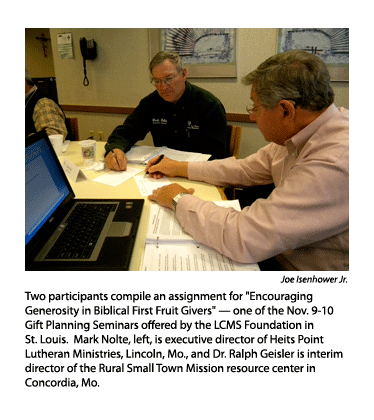 ool families with tuition.
"I worked with it, but was not successful in growing the fund. We needed help and resources to grow," said Brackman, who was among some 20 participants at a Lifetime Plan for Giving Seminar held Nov. 9-10 in St. Louis by the LCMS Foundation.
Along with pastors, laypeople and organization staff members, Brackman is gaining a broader perspective for his task.
"I see a major benefit that it's not just raising dollars but helping families grow in stewardship and creating godly estate plans," he said. "I want to encourage them, regardless of which ministries benefit."
Packaged in six courses with up to 25 seminars, the Foundation recently reported that more than 250 people have participated since the series began in 2008. With several seminars during each course session, the topics covered include Christian stewardship, gift development, communicating the mission, estate planning, endowment procedures and organizational responsibility.
"The Foundation is the only LCMS service organization that offers the comprehensive expertise and services for gift planning," commented Foundation President Thomas Ries. "We felt the need to help equip other ministries besides our own employees to, first, know the fundamentals of gift planning and, second, to be equipped to actually help individuals achieve their passion for giving through gift planning."
The November sessions fit well with Mark Nolte's responsibility as executive director of Heits Point Lutheran Ministries, a family camp and retreat center in Lincoln, Mo.
"It's all based on Scripture," Nolte said. "I want to develop a relationship with donors, helping them understand this is ministry."
Ries explained that stewardship involves management of all of life and life's resources for God's purposes, and while the Foundation does not intend to be the stewardship department, it is part of a larger team and helps with training and equipping.
"As decentralized and as fragmented as we sometimes appear to be as a Synod, there really are a lot of people who think through these things collectively."
Citing the Foundation's promise statement "to help individuals plan and direct their passion for giving to families and all ministries of the church today, tomorrow and forever," Ries said the process can be sophisticated and requires a time commitment from both planners and the people being helped.
Planning is a key part of the instruction, according to Philip Meinzen, who developed a major part of the comprehensive gift development curriculum using his experience as an educator, gift planner and counselor.
"We teach a gift planning construct of development because 90 percent or more of the assets owned by Americans are non-cash," said Meinzen, the Foundation's director of training. He said the intent is to help Christians plan their gifts — for family and the church — so they can "discover the optimal joy that the Lord has intended for them. We help ministries gain confidence in encouraging generosity today, tomorrow and forever."
He noted that about 90 percent of people in America give to charities during their lifetimes, but only about 8 percent give to a charitable organization in their estates or wills.
New to her role as director of ministry advancement at St. John Lutheran Church, Ellisville, Mo., Becky Pagel was attending her second course. She said she saw how gift planning can be included in her congregation's stewardship program.
"These are things our people can learn about — helping to plan a heritage of faith," Pagel said. "Many don't realize they can do this through their lifetime plans for giving, which include their estate plans."
"We really believe that, next to introducing Christ to a person and the salvation He has won for us, helping somebody experience the joy of giving is the next best thing that we can do for a disciple's walk with the risen Lord," Meinzen added. "It's actually serving the Lord Himself and His people. We try to be careful to keep the motivation where it belongs."
Rev. Lothar Thoelke, a retired pastor who is beginning gift planning at Trinity Lutheran Church, Crown Point, Ind., said the seminars have helped expand his thinking: "They helped me think through stewardship again and see it simply as the other side of the coin of discipling. Rather than seeing ourselves as fundraisers, we are building relationships and encouraging families to grow in faithfulness and in the joy of making the most of everything the Lord has given us."

Meinzen described three dimensions to the seminars: One is funding the ministries by helping institutions and organizations communicate the benefit their ministries will have in the world. A second deals with personal financial management or stewardship. The third looks at organizational leadership and the responsibility of the ministry as a corporate steward to think and act with relational and development awareness.
While Meinzen and other Foundation staff teach many segments, they also bring in teachers from the Synod's stewardship department, attorneys and seasoned development officers. The Foundation awards three certificates, depending on the individual participant's desire to proceed.
Designed for adult learners, the courses include opportunities for hands-on experience. "The learner can put that into practice under our mentorship," Meinzen explained. "I am now following up with them to mentor their learning and that's when they really learn."
When participants complete 16 courses, they are eligible to become an associate of the Foundation and can access the Foundation's trust and investment legal resources for gift processing.
Saying he intends to become endorsed as a Christian development executive with the Foundation, Dr. John Sproul, pastor of Risen Savior Lutheran Church in Chandler, Ariz., intends to take all 25 courses. He attended his second session of seminars in November.
"I've always loved stewardship," he explained. "One of the great joys is to see people use their gifts to participate in what God is doing in their midst."
Ries said the seminars will help the Foundation extend its services toward the vision of every Christian with a lifetime plan for giving. As more people are trained, they extend the understanding of gift planning.
Meanwhile, he said, it helps the Foundation make the best use of its staff expertise to help finish an individual or family gift plan that is solid legally, financially and spiritually.
"If even a fraction of those who sit in the seats really take the training to the next level, we've compounded our ministry," Ries said. "And the benefit, of course, is that lots of other people get the joy we experience in helping others find joy in giving."
While he hopes to build Zion's endowment through gift planning, Brackman also emphasizes an additional dimension — the Christian preamble and a family blessing through which a person can leave a statement of faith and love for heirs.
"Personally, I feel that writing my Christian preamble was one of the most spiritual activities I have been privileged to do," he said. "I'm not just transferring stuff, but also a legacy of my faith and values."
More details about the Lifetime Plan for Giving Seminars can be found at www.lfnd.org.
Roland Lovstad is a freelance writer and a member of Immanuel Lutheran Church, Perryville, Mo.
Posted Nov. 24, 2010