In a 35-minute telephone call early Jan. 15, Rev. Marky Kessa, president of the Evangelical Lutheran Church of Haiti, updated LCMS pastor Rev. S.T. Williams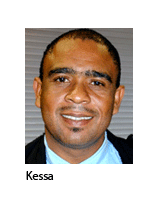 on the situation in Haiti following a devastating earthquake in the Caribbean nation three days earlier.
Williams, senior pastor of St. Paul Lutheran Church, Los Angeles, is vice president of the Haiti Lutheran Mission Coordinating Committee, a mission agency of the LCMS and Lutheran Church–Canada. He has led more than 175 mission trips to Haiti since 1998, and knows Kessa well, he said.
Williams said Kessa sounded overwhelmed and upset during the call, but also hopeful that Lutherans and others around the world are responding and that God is ultimately in control.
Kessa, who had earlier been in Port-au-Prince, made the call from Jacmel, in southern Haiti, some 22 miles southwest of the capital and which sustained heavy quake damage.
According to Kessa, both Jacmel and Port-au-Prince "are in ruins," with more than 100,000 people dead. Three-quarters of residents in both cities are still "sleeping on the streets," he said, and neither city has running water nor electricity.
Kessa said he believes that all pastors of the Evangelical Lutheran Church of Haiti are alive, but an unknown number of the church body's members were killed in the earthquake. He told Williams that he was "going to each church and holding prayer and funeral services," Williams said.
At least two Lutheran churches and schools in Haiti were damaged, according to Kessa.
Williams said Kessa "welcomes any mission team as soon as possible with cash, medical supplies, water, food, clothing," and would be happy to meet volunteers at the airport in Port-au-Prince.
The needs are overwhelming, Kessa said, and he asked fellow Lutherans to "pray and bring assistance immediately, please."
Material items are being collected for delivery to Haiti in January. For more information on what's needed and where to send it, click here.
Financial donations also are requested by LCMS World Relief and Human Care for the long-term Lutheran response in Haiti. To make a gift, click here, call toll-free 888-930-4438, or mail checks marked "Haiti Earthquake Relief" to LCMS World Relief and Human Care, P.O. Box 66861, St. Louis, MO 63166-6861.
Posted Jan. 19, 2010