Linda Hartke began serving Feb. 22 as president and chief executive officer of Lutheran Immigration and Refugee Service (LIRS) in Baltimore.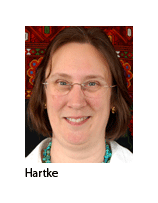 Hartke most recently served as executive director of the Ecumenical Advocacy Alliance in Geneva, Switzerland, an international network of churches and church-related organizations committed to campaigning together on common concerns, such as HIV/AIDS awareness.
She succeeds Ralston H. Deffenbaugh Jr., who had served in the post since 1991. Deffenbaugh resigned Sept. 1.
Hartke hails from Massachusetts and is a graduate of Smith College, where she complemented her studies in religion and biblical literature with a second major in government. She was most recently a member of the Evangelical Lutheran Church of Geneva, where she served as an elected member of the congregational committee and president of the congregation. She also has served on national and regional boards of the Evangelical Lutheran Church in America.
"The board of directors is elated to welcome Linda Hartke as our new president and CEO, and we have great faith in her leadership abilities," said outgoing LIRS board of directors Chair Elaine Richter Bryant. "She has the demonstrated skills and experience to enable LIRS to build on its firm foundation and to bring new dimension to our efforts to 'welcome the stranger.' "
For more information about LIRS, visit its Web site at www.lirs.org.
Posted March 10, 2010