Helen Morris, who served as president of the Lutheran Women's Missionary League from 1975 to 1979, died Aug. 14 at St. John's Lutheran Home in Albert Lea, Minn. Mrs. Morris, 92, had suffered from congestive heart failure and Alzheimer's disease.
A funeral service for Mrs. Morris was held Aug. 18 at Our Savior Lutheran C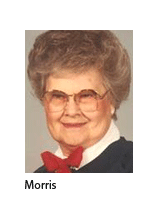 hurch in Mankato, Minn.
As LWML president, she presided over two LWML conventions — in 1977, in Laramie, Wyo., and in 1979, in Omaha, Neb. The latter convention included an unscheduled appearance by Walter Mondale, who was then serving as vice-president of the United States.
Mrs. Morris, an elementary school teacher, "was an accomplished speaker and traveled far and wide, speaking and sharing her faith at conventions and other gatherings," according to The Free Press in Mankato. She also served on numerous district and national committees of The Lutheran Church–Missouri Synod.
She "loved children, her family, playing cards with her friends, reading, cooking, entertaining and serving her Lord and Savior, Jesus Christ" and was "a woman of great faith who always talked of her blessings and not her troubles," said The Free Press.
Current LWML President Janice Wendorf said the auxiliary "thanks and praises God for giving us this inspiring mentor and servant. May God grant His comfort, peace and strength to Helen's family and friends, who loved her and will miss her presence."
Mrs. Morris was preceded in death by her husband of 60-plus years, William E. Morris, and an infant daughter, Claudia. Survivors include a son, Bill (Brenda) Morris of Albert Lea, Minn., and grandchildren Troy (Kim) Morris of Phoenix, Ariz.; Jessica (Mike) Hill of Calgary, Alberta, Canada; and Matt Morris of Albert Lea — and three great-grandchildren.
Memorials will be evenly directed by the family to the LWML and other LCMS organizations, unless otherwise stipulated.
Posted Aug. 18, 2010