Two Higher Things Lutheran youth conferences earlier this summer drew nearly 1,800 young people and their chaperones to campuses in Logan, Utah, and Nashville, Tenn.

Higher Things — an LCMS Recognized Service Organization — sponsored its 14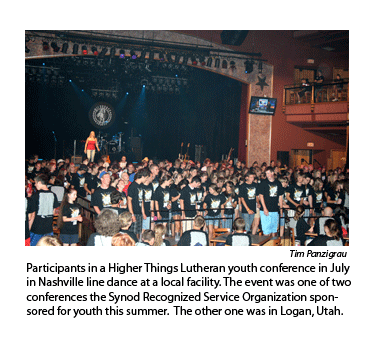 th and 15th conferences since 2000 at Utah State University June 29-July 2, and Vanderbilt University July 6-9.

The organization's conferences are held in various locations throughout the country "to provide regional accessibility to attendees," according to a press release about this year's events. Registration was open to junior-high through college-age young people who have been confirmed, and to adult chaperones.

Higher Things "assists parents, congregations and pastors in cultivating and promoting a Lutheran identity among youth," the news release points out.

"We're glad we were able to visit the [LCMS] Rocky Mountain and Mid-South Districts … this summer," said Conference Coordinator Sandra Ostapowich. "Everything we do is to get the Gospel into as many young ears as possible."
As in past years, the programs for the 2010 conferences were nearly identical — including multiple worship services, breakaway and plenary teaching sessions, and opportunities for leisure and fun activities. The theme for this year's conferences was "GIVEN."
"The best week out of my year, hands down, is the Higher Things conference," said Heidi Gaub, a college volunteer from Petaluma, Calif., who has attended four of the conferences. "The worship services always fill my eyes with tears," she continued, "simply because I am so amazed at so many youth singing 'We Praise You and Acknowledge You' and chanting the liturgy with such sincerity and faith. It has been said before that we live in a time that makes it very difficult to be Lutheran, but these youth truly dare to be Lutheran."
Rev. George Borghardt, who is the Higher Things conference executive, noted that this year's young participants "will, without doubt, have memories of GIVEN that will carry on long after their conference T-shirts have faded. They learned how it's all given to us in the Divine Service: the cross, forgiveness, eternal life, salvation and service to others."

"I am proud of what Higher Things has achieved by the mercies of God over this past decade," said Rev. William Cwirla, its president. "Young lives have been impacted and shaped; friendships have been forged; a new generation is ready to run the race set before them. It is exciting to see the bright young faces of our youth engaged in worship and in the Word. It is a privilege to deliver Jesus through Word and Sacrament, and watch what He does with them."

For more information about Higher Things and its youth conferences, visit www.higherthings.org.
Posted July 29, 2010