The Board of Regents of Concordia University, Irvine, Calif., has named Dr. Kurt Krueger president-elect of the universit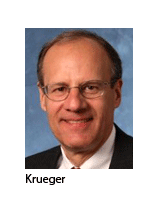 y. Krueger accepted the position May 5. He plans to take office July 1, and will be installed as president this fall.
Krueger has served since 2005 as executive director of the Synod's Board for University Education and president of the Concordia University System. Prior to that, he spent 19 years serving Concordia, Irvine, most recently as provost and chief academic officer.
Krueger said he loves the university, and as its fourth president he is determined to stay faithful to Concordia's Lutheran Christian mission and pursue excellence in every opportunity the school faces in the future. "The two key terms are faithfulness and excellence," he said, "and that should form the umbrella over everything we try to accomplish."
His plans for the university include lowering the discount rate of tuition, paying down the school's debt, building up the endowment, and adding new programs.
"Concordia offers a quality education," he said. "We need to determine how to attract new students who can benefit from the exemplary education we provide."
The presidential electors reached their decision to extend Krueger the call after a nine-month search process. Krueger will succeed Dr. J.A.O. Preus III, who stepped down in September 2009 to become executive vice president of mission advancement at Bethesda Lutheran Homes and Services in Watertown, Wis.
Krueger earned a B.A. in English from Valparaiso University, Valparaiso, Ind.; an M.A.T. in English Studies from Lewis and Clark College, Portland, Ore.; an M.A. in English from Marquette University, Milwaukee; and his Ph.D. in English from Indiana University of Pennsylvania, Indiana, Pa.
He serves on the Lutheran Educational Conference of North America Board of Directors, and the Synod's North America Missions Advisory Council. He is a member of the American Association of Higher Education, the Hemingway Society, and the Lutheran Education Association.
He and his wife, Val, have two grown children in California.
Posted May 5, 2010 / Updated May 13, 2010