Dr. Mark Larson of Aurora, Colo., and Paula (Polly) Faszholz Gregali of St. Louis have been named to new positions at St. Louis-based Lutheran Hour Ministries (LHM).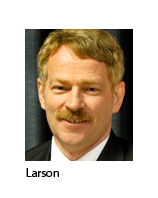 Larson began serving Jan. 4 as director of LHM's United States Ministries division, overseeing the production of "The Lutheran Hour," "Para el Camino," and "Woman to Woman" radio programs, the ministry's print outreach materials, ministry fulfillment and referral services, and the LHM Men's NetWork.
Larson formerly served 10 years as district executive — Missions for the LCMS Rocky Mountain District. In that role, he guided the mission and evangelism programs for the district, which includes Colorado, New Mexico, Utah, and El Paso, Texas.
Under his leadership, the district received the 2008 Executive Director's Ablaze! Award from LCMS World Mission for a series of evangelism conferences called "Conversations of Grace."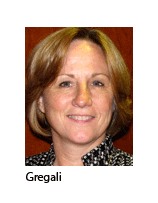 Gregali began work Jan. 7 as LHM's manager, International Ministries Partnerships. Previously, she had served since September 2009 as the auxiliary's specialist for Global Impact and International Programs. She also served in LHM's Volunteer Opportunities and Creative Services departments from 1995 to 2007.
In her new post, Gregali will consult with and assist Lutherans throughout the United States in developing partner relationships with LHM's international ministry centers.
Posted March 17, 2010