Col. Jeffrey Williams, who is on a six-month tour of duty aboard the International Space Station an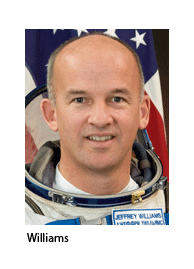 d is a member of Gloria Dei Lutheran Church in Houston, has authored a book, The Work of His Hands: A View of God's Creation from Space. It will be available from Concordia Publishing House in June.
The 176-page book ($28.99, plus shipping, item no. 124320WEB), which may be pre-ordered from CPH now, features photos taken by Williams while in space, along with commentary from the astronaut.
"Spaceflight definitely gave me a new perspective on the world around us and provided, in a very unique way, sort of a transcendent view of things above and beyond the immediate elements of life," Williams says in the book. "For example, viewing the Earth from space brought a new significance to the truth of many familiar biblical texts."
But his experiences as an astronaut did not bring him closer to God or change his beliefs about God's existence, Williams writes. "My relationship with G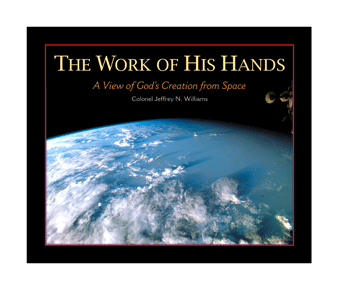 od does not hinge on my looking at Earth from orbit and experiencing that 'small whisper' that is so evident in creation.
"True, life-transforming faith in God and relationship with Him is based not on a whisper, but a shout — the shout of God's Son, the Lord Jesus Christ, in His work on the cross as revealed in the supernatural revelation of the Bible."
To pre-order The Work of His Hands: A View of God's Creation from Space, call CPH at 800-325-3040 or visit its Web site at www.cph.org.