By Sarah Schafer
Even as the death toll in Haiti was expected to reach 300,000 and with an estimated 1.2 million Haitians living on the streets, the Synod continues its collaborative efforts to reach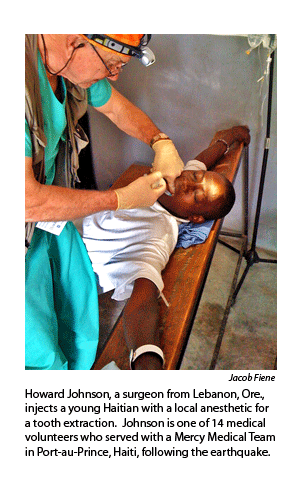 out in mercy to its partner church, the Evangelical Lutheran Church of Haiti (ELCH).
As of Feb. 24, LCMS members, churches, and schools from across the nation raised almost $4 million and donated semi-truckloads of material donations for the LCMS response in Haiti. Thrivent Financial for Lutherans matched gifts to LCMS World Relief and Human Care, raising $215,000.
"I thank God for the generosity of the people of The Lutheran Church–Missouri Synod in contributing over $3 million for relief efforts in that stricken country," said Synod President Dr. Gerald B. Kieschnick. "I also thank God for the collaborative work of many individuals and agencies in our Synod who are working together to bring help and hope to people in Haiti, especially Lutheran pastors and people, particularly the pastors and people of the Evangelical Lutheran Church of Haiti … . All are motivated to give and to serve, constrained by the love of Christ, who gave His life that we might have life."
At press time, $800,850 had been distributed for Haiti relief: $85,315 of that supported medical, pastoral care, and assessment teams that served in Haiti in the weeks following the earthquake.
More than $104,981 was awarded directly to the ELCH, and $175,154 to LCMS World Mission, the bulk of which allowed the Dominican Republic mission team to purchase and ship more than 220,000 pounds of food, water, hygiene items, 150 tents, and medical goods for distribution at ELCH church compounds in Jacmel and Port-au-Prince, and in outlying areas.
An additional $185,400 in Haiti relief donations were awarded by LCMS WR-HC to LCMS Recognized Service Organizations (RSOs) and Haiti mission societies, $100,000 going to MISSION: HAITI to ship 13 containers of donated material goods to Haiti. LCMS WR-HC will also award grants to Orphan Grain Train to ship two containers to Haiti. Lutheran Church Charities also collected five semi-trucks of material goods for shipment to Haiti.
LCMS WR-HC also announced a $250,000 grant to the pan-Lutheran organization Lutheran World Relief, in Baltimore, which will focus efforts in northern Haiti.
"Within 10 days of the earthquake, the LCMS had food, medical supplies, tents, and personnel on the ground in Haiti," said Rev. Glenn F. Merritt, director of Disaster Response with LCMS WR-HC, who credits LCMS donors, mission societies, RSOs, and particularly the assistance of LCMS World Mission and its Dominican Republic Lutheran Mission — including Rev. Ted and Rebecca Krey, Danelle Putnam, and Brazil's Rev. Walter and Ana Ries — for the Synod's ability to offer such quick response. Barb Below, director of Social Ministry Organizations for LCMS WR-HC, provided logistical services for volunteers and staff in Haiti from the LCMS WR-HC office in St. Louis.
For a period of time, LCMS World Mission re-deployed missionaries — including Dr. Jorge Groh, regional director for Latin America from Panama and five others from the Cayman Islands and Panama — to provide logistical and ministerial support to the missionaries in the Dominican Republic.
"If anyone has made a significant impact on the lives of Haitians, it's been the Dominican Republic Lutheran Mission. They have risen to the occasion, providing assistance far and above what was ever expected," said Merritt.
LCMS WR-HC and LCMS World Mission staff met with ELCH President Rev. Marky Kessa Feb. 16-17 to outline the next six weeks of intermediate disaster response efforts in Haiti. The ELCH plans to send a five-member assessment team in early March to document the earthquake's effects on members and every church or school building in its eight districts. Once the assessment is complete, an ELCH Disaster Relief Committee will review grant requests from affected congregations and schools, and distribute aid received from the LCMS and other sources accordingly.
In the meantime, LCMS WR-HC will continue to focus on providing temporary shelter to homeless Haitians, improving water and sanitation in places where the homeless are gathering, and continuing to supply food and hygiene items.
Already, four Mercy Medical Teams (MMTs) have seen hundreds of critically ill patients in Jimani, along the Haiti-Dominican border, and 1,200 more patients at clinics in Jacmel and Port-au-Prince. Kessa requested ongoing medical care in the intermediate stage, particularly as poor sanitation causes disease and sickness in refugee camps and as Haiti's rainy season nears. A March 11-21 team was scheduled prior to the earthquake to be the first MMT in Haiti. The team of 17 will continue efforts at the Good Shepherd Lutheran Church compound in Port-au-Prince.
Two pastoral care teams and an assessment team traveled to Haiti in the weeks following the earthquake. "President Kessa expressed his heartfelt thanks to the LCMS for sending people and emergency aid," said Dr. Albert B. Collver III, LCMS WR-HC executive pastoral assistant and a pastoral care team member.
As of Feb. 24, when this story was posted, Kieschnick was preparing to travel to Haiti March 1 to see the damages firsthand, visit and pray with those affected, and encourage the work of LCMS staff and volunteers. Planning to join him are Merritt; Groh; Dr. Douglas Rutt of Concordia Theological Seminary; and James Neuendorf, communications specialist missionary in Latin America with LCMS World Mission.
Rev. Matthew Harrison, who traveled to the affected areas twice, said, "Those of us who have been on the ground in Haiti have been deeply traumatized. Yet we have suffered but the tiniest particle of what Haitians are suffering. I bury my thoughts in Christ's cross, the place I see the purpose of suffering most clearly. Haiti will remain Haiti. But I want the people of the Missouri Synod to know two things: 1. We have wonderful and capable Haitian Lutheran brothers and sisters serving others mightily with our help; and 2. Through specific strategic choices (in large measure by LCMS World Relief and Human Care), the LCMS today has tremendous capacity to reach out in love in time of disaster. Amid all the weakness and suffering, this is a great moment for the church. I'm proud of the LCMS."
For full coverage of LCMS efforts in Haiti, visit www.lcms.org/worldrelief. To make a gift that shares Christ's mercy and helps suffering Haitians, visit http://givenowlcms.org; call toll-free 888-930-4438; or mail donations marked "Haiti Earthquake Relief" to LCMS World Relief and Human Care, P.O. Box 66861, St. Louis, MO 63166-6861.
Sarah Schafer is communications project manager for LCMS World Relief and Human Care.
Posted Feb. 24, 2010