By Roland Lovstad
Representatives from five Concordia universities and one seminary laid groundwork for partnerships with Dar al-Kalima College, a fledgling Lutheran college in Bethlehem, during a mid-January visit to Palestine.

By signing "Memorandums of Understanding" on behalf of their institutions, the LCMS educators initiated partnerships with Dar al-Kalima College that will involve th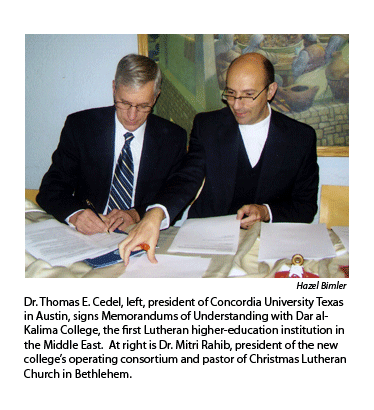 e exchange of students and faculty, online courses, master's degree programs, and other activities. During their Jan. 7-17 trip, the educators also met with Palestine's Prime Minister and Minister of Higher Education.
Dar al-Kalima ("House of the Word") College was accredited in 2006 by the Palestinian Ministry of Higher Education to offer the two-year associate degree. It currently offers programs in glass and ceramics, fine art, documentary filmmaking, jewelry design, music performance, and tour guiding. The college focuses on programs that enable students to find employment and stay in Palestine.
Dar al-Kalima College is part of the Diyar (Arabic for "homes") Consortium, which also operates a health and wellness center, a cultural and conference center, and two other centers outside of Bethlehem. Diyar is applying for accreditation for graduate programs and wants to partner with the Concordias in this area.
"The visit of the Concordia presidents to Bethlehem is historic," said Dr. Mitri Raheb, the founder and president of Diyar Consortium and pastor of Christmas Lutheran Church. "The Memorandums of Understanding are fundamental to the first Lutheran university in the Middle East." He believes the partnership involving Concordia expertise and the consortium's vision will enable the college in Bethlehem to be a clearinghouse for future leaders in Palestine and beyond.
"The trip was an incredible experience for me personally and for all of us from the Concordia University System," said Dr. Thomas E. Cedel, president of Concordia University Texas in Austin. "It gave us an opportunity to support a Lutheran higher education institution in Bethlehem. We also discovered opportunities for our students to study where Jesus walked and where geopolitics play a role in the everyday life of the people who live there."

Also participating were Dr. Brian Friedrich, president, Concordia University Nebraska at Seward; Dr. Robert Holst, president, Concordia University, St. Paul; Alan Meyer, senior vice president for planning and research, Concordia University Chicago; Dr. Patrick Ferry, president of Concordia University Wisconsin, Mequon; and Rev. Timothy Puls, assistant vice president of church relations, Concordia Theological Seminary, Fort Wayne. The other five Concordia universities and Concordia Seminary, St. Louis, were invited but unable to send representatives.
Puls said President Dean Wenthe of the Fort Wayne seminary is reviewing the Memorandum of Understanding for the seminary's possible participation. Puls added, "Concordia Theological Seminary is thrilled at the potential to have future pastors be exposed to the Holy Land and to be part of providing theological education there."
Bright Stars of Bethlehem, a nonprofit organization begun by LCMS Lutherans to support the ministry in Bethlehem, conducted the trip. The touring group included members of the Bright Stars board and contributors to the ministry. The work in Bethlehem began with seed grants from Wheat Ridge Ministries, an LCMS Recognized Service Organization that focuses on health and healing.
Gregg Smith, Tampa, Fla., chairman of the Bright Stars board, called the trip "a milestone" in the life of the Christian community and Dar al-Kalima College. "The opportunity for Palestinian Christian and U.S. Lutheran students to study in each other's culture will broaden and deepen from both academic and personal experience," he said.
Along with Smith, three other Bright Stars board members led the group: John Walz, Lombard, Ill., treasurer; Dr. Rich Bimler, Bloomingdale, Ill., secretary; and Dr. John Eckrich, St. Louis, who assists with medical care programs.
Roland Lovstad is a freelance writer and a member of Immanuel Lutheran Church, Perryville, Mo.
Posted Jan. 27, 2010