By Kim Plummer Krull
As the cholera outbreak grows ever more deadly, Willy Gaspar, LCMS World Relief and Human Care projects manager in Haiti, is working with Lutheran partners in the neighboring Dominican Republic to b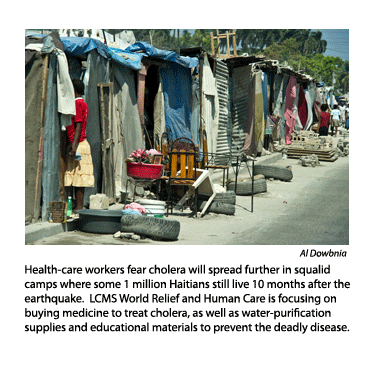 uy desperately needed medicines and water filters to distribute through Haitian Lutheran congregations into some of the country's hardest-hit communities.
"The needs are extremely urgent and growing more critical by the minute," said Rev. Glenn F. Merritt, director of Disaster Response with LCMS World Relief and Human Care (WR-HC), who is coordinating LCMS efforts with Gaspar, Life and Health Ministries Director Maggie Karner and the Dominican Republic Lutheran Mission team to fight the disease that is now an epidemic in an already crisis-weary country. "Without continued support and efforts, many hundreds of people, who have already endured so much, will surely die."
Since the Jan. 12 quake, WR-HC's focus has not diminished in Haiti, as it works with Lutheran partners on recovery and rebuilding programs. Since October, the Synod's mercy arm also has been helping fight the cholera outbreak, collaborating again with missionary Rev. Ted Krey and the Dominican Republic Lutheran Mission team, partners in the LCMS earthquake response.
By Nov. 16, cholera had killed 1,034 people and caused some 16,799 hospitalizations, according to the Haitian Ministry of Public Health. Those numbers may be understated, say health-care workers in published reports, who fear the disease will further spread in squalid camps where some 1 million Haitians still live 10 months after the earthquake.
To help slow the tide of cholera in Haiti, WR-HC is providing a total of $50,000 in grants. The money will be used for emergency supplies (including medicines, clean water and sanitary supplies), local education programs on cholera prevention and for a future needs assessment. Grant recipients include the Evangelical Lutheran Church of Haiti (ELCH) and the Lutheran Church of Haiti (LCH), two Haitian Lutheran church bodies with whom WR-HC has been working on earthquake recovery programs since January.
These new funds are in addition to a $5,000 grant awarded in October to the ELCH to buy hand sanitizer, disinfectant soap and cleaners, and bottled water to distribute through congregations to local communities.
Other LCMS resources in the fight against cholera are two 40-foot containers loaded with bottled water. The shipments arrived Nov. 16 in Port-au-Prince, sent by WR-HC in cooperation with Orphan Grain Train. The two Lutheran partners and their donors have made possible 59 shipments of recovery supplies for Haiti since the quake — "everything from medical supplies, to clothing, to beans and rice and school supplies," said Merritt.
WR-HC is focusing on purchasing medicines and water-sanitation supplies to treat suffering Haitians and also for disease prevention. The water filters Gaspar and Krey are in the process of purchasing include information about basic sanitation practices.
As this story was being posted, Merritt was making plans for his 13th trek to Haiti or the neighboring Dominican Republic since the January quake. He stressed that cholera, which is spread through contaminated water and food, is a preventable and treatable disease. But some areas in Haiti lack cholera medication.
"They are out of [the necessary medical] supplies in the Central Plateau, which is one of the hardest-hit regions," said Merritt, who fielded numerous frantic calls and e-mails from Lutheran partners in Haiti over the weekend.
One such e-mail came from LCH President Rev. Revenel Benoit, in Gonaives, who wrote to Merritt that "cholera is terrible because people can die after six to seven hours if there is no serum and antibiotics. But the thing is, the poor people can't afford to buy serum and antibiotic[s] because [they] are not available at these two Gonaives hospitals. Now everything is shut down in the city."
Plans are in the works, Benoit told Merritt, for the LCH to use WR-HC grant money to treat patients at the new medical clinic in rural Poto opened by the LCH and WR-HC and at another LCH clinic in Gonaives.
This latest round of grant support for Haitian Lutheran partners is in addition to the more than $5.4 million WR-HC donors have given for Haiti earthquake relief and $28,749 already provided to fight the cholera outbreak.
WR-HC continues to build permanent housing through the "Building Homes and Hope in Haiti" (BHHH) program. To date, BHHH donors have provided $30,991 in financial support, plus hours of manpower from volunteers throughout the country.
WR-HC donors also have designated $130,380 for orphanages and orphan support in Haiti.
Rev. John Fale, WR-HC interim executive director, said he appreciates the generous support by LCMS donors for Haitians still suffering from the earthquake and, more recently, the cholera outbreak. The Synod's mercy arm has knowledgeable staff and capable partners on the ground in Haiti, he said, but very much needs continued support from caring donors in order to meet growing physical and spiritual needs in Haiti.
"We have made a decision to commit $50,000 to fight the cholera outbreak, and now pray that our Lord will bless us with the needed resources as World Relief and Human Care responds on behalf of the entire LCMS," Fale said.
To make an online gift for Haiti cholera outbreak relief, go to http://givenowlcms.org. To make a gift or learn more about Building Homes and Hope in Haiti, visit www.lcms.org/bhhh. To contact WR-HC, call 800-248-1930, ext. 1380.
Kim Plummer Krull is a freelance writer and a member of St. Paul's Lutheran Church, Des Peres, Mo.
Posted Nov. 18, 2010