By Paula Schlueter Ross
Three LCMS missionary families stationed in Jos, Nigeria, and members of the Lutheran Church in Nigeria are reported safe after attacks that killed some 200 people in the West African nation.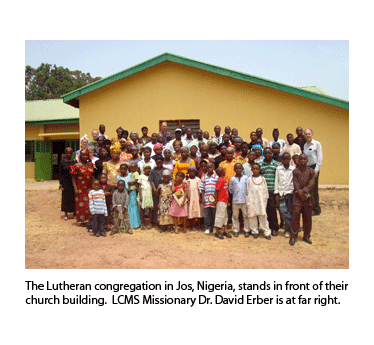 According to Synod Missionary Dr. David Erber, Fulani herdsmen attacked three villages outside of Jos in the early-morning hours of Sunday, March 7.
"These attacks seemed to be acts of revenge related to fighting that took place in the Jos area in January," Erber said in a March 10 e-mail to LCMS World Mission. Part of the problem, he said, "is that around 1 million people or more are trying to live in a land size area where 40,000 people in the U.S. might live," so "there is a struggle for space and resources." Political maneuverings and religious conflict also may be involved, said Erber, who believes "more than one agenda" contributed to the violence.
Erber, who has lived in Nigeria for 23 years, serves as area facilitator for English-speaking West Africa with the Synod's mission board. With him in Jos are his wife, Joyce, and two teenage children.
The Erbers live in a walled missionary compound with five other families, including LCMS missionaries Ivan and Jennifer Rasch, and their two children, and Rev. Charles and Karen Tessaro, who serve Lutheran Bible Translators.
There has been no fighting in the part of the city where the missionary compound is located, Erber said, and no other violence since the March 7 attacks.
In a March 16 e-mail to Reporter, Erber said people in Jos "are going about their normal daily routines, while being cautious and alert. Despite the 6 p.m. to 6 a.m. curfew, people are most worried about night attacks. Many of the men sleep outside in readiness to defend their families.
"Generally, people want the fighting to stop, yet they are determined to defend what they see as their right to land and resources in Jos."
Although no Lutheran Church of Nigeria (LCN) members were affected by the March attacks, one LCN family's home, car, and possessions were burned in an earlier conflict on Jan. 17, and their son was arrested along with other young men who were suspected of being involved in the fighting.
The Lutheran congregation in Jos is supporting the family with prayers and financial help, according to Erber, and encouraging its members "to be leaders of peace in their communities."
In an outreach strategies course he taught to LCN pastors last September, Erber took the class to visit a pastor whose church had been burned three times.
"These LCN pastors saw, from this pastor's experience, how God can use the burning of a church as an opportunity to love and forgive others in Christ's name," the missionary recalled.
"Wherever we are and in whatever circumstances, we encourage our brothers and sisters in Christ to look for open doors to share Christ with those who don't know Him," Erber told Reporter. "Often during times of crises, doors are open that otherwise are closed."
Nigeria is Africa's most populous country, with 140 million people speaking nearly 400 different languages and living in an area the size of Texas and Oklahoma. (To read more about Nigeria, click here.)
Erber encouraged LCMS members to "pray for peace in Jos, Nigeria. We know that even in the midst of man's folly, God can do great things (Rom. 8:28)."
Posted March 17, 2010