Lutheran Social Services Disaster Response (LSSDR), based in Austin, Texas, announced it has been awarded a $10.7 million grant to help survivors of Hurricane Ike in Texas with their ongoing "unmet needs."
The Social Services Block Grant (SSBG) is funded by the Houston-Gal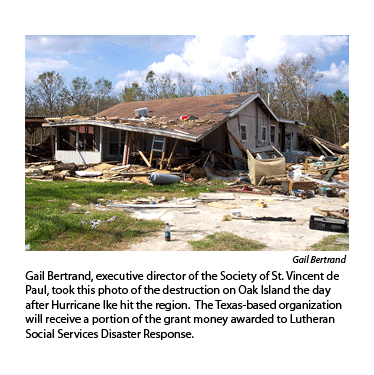 veston Area Council to assist victims in 10 Texas counties affected by the storm. Funds from the SSBG grant will be distributed through local long-term recovery committees to address survivors' unmet needs, which include furniture, appliances, and utility assistance.
Hurricane Ike struck the Texas coast in September 2008, causing an estimated $24 billion in damage. The hurricane is considered the third most destructive to make landfall in the United States.
"We look forward to utilizing the SSBG funds awarded to us to further our goal of returning Ike survivors to their pre-disaster lives," said Kurt Senske, president and CEO of Lutheran Social Services of the South, an LCMS-recognized Social Ministry Organization. "It is our hope that these funds will be the final piece that many people need to achieve their recovery plan goals and complete the recovery process."
This is the second major grant LSSDR has received related to Hurricane Ike. In May 2009, it was awarded a $24.3 million grant from the U.S. Department of Homeland Security's Federal Emergency Management Agency to provide case management services to the 13,000 Ike survivors.
To be eligible to receive SSBG funds, individuals must be a survivor of Hurricane Ike, reside in one of the 10 counties in the service area, currently be receiving case management services from a qualified case management agency, and have an unmet need related to the hurricane.
LSSDR is currently providing disaster case management services for Ike survivors in 16 Southeast Texas counties through the Recovery for Ike Survivors Enterprise program.
LSSDR is an affiliated program of Lutheran Social Services of the South, a multi-faceted social service agency that serves more than 45,000 people annually throughout Texas and Louisiana. Programs include disaster response, foster care, international and domestic adoption, unplanned pregnancy services, post-adoption services, independent and assisted living, skilled nursing care and rehabilitation services, adult day care, geriatric care management, and emergency assistance.
Posted Feb. 24, 2010