By Kim Plummer Krull
Ten months after a magnitude 7.0 earthquake devastated Haiti, news stories report how little has changed, including that more than 1 million survivors remain homeless and that none of the U.S. government's pledged $1.15 billion in aid h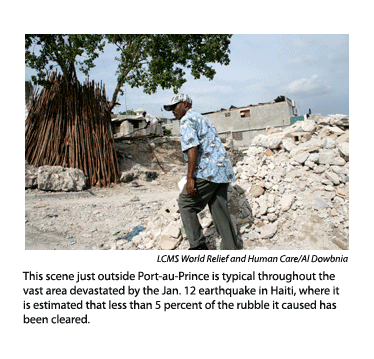 as arrived in the Western Hemisphere's poorest country. But amid huge challenges that include a recent cholera outbreak, LCMS World Relief and Human Care's Rev. Glenn F. Merritt says that Lutheran partners are making positive steps to help suffering Haitians.

"It seems like so little has been done, but with the programs we've implemented with the ELCH (Evangelical Lutheran Church of Haiti) and other partners, we are making a positive impact in the lives of the helpless and hurting of Haiti," said Merritt, director of Disaster Response with LCMS World Relief and Human Care (WR-HC).
Just back from his 11th trip to Haiti since the Jan. 12 quake, Merritt helped facilitate a WR-HC grant request from the ELCH for funds to buy personal sanitation supplies to help stem the spread of cholera. To date, the disease has caused more than 250 deaths and sickened more than 3,000 people, according to Haitian health officials.
"We want to help the Lutheran churches in Haiti protect their communities and prevent the spread of cholera," Merritt said of a $5,000 WR-HC grant awarded to the Haitian Lutheran church body to buy hand sanitizer, disinfectant soap and cleaners, and bottled water to distribute through congregations to local communities.
The cholera outbreak and a travel advisory from the Centers for Disease Control and Prevention forced Merritt to postpone another Haiti trip scheduled for this week. The advisory also prompted a WR-HC Mercy Medical Team to leave Haiti one day early, but not before the nine-person group had completed its scheduled work, including serving alongside Haitian medical personnel to treat patients at a new clinic in rural Poto. The clinic is the first of four such facilities being opened by WR-HC in partnership with Haitian Lutheran church bodies.
The cholera outbreak is only the latest in a string of troubling news reports about suffering in Haiti. More than 1 million displaced Haitians continue to live in crowded camps, with many enduring hunger and violence. By early October, none of the $1.15 billion pledged by the U.S. for rebuilding had arrived in Haiti, according to the Associated Press. Land ownership issues also have stymied recovery efforts in cities such as Port-au-Prince, where only 2 percent of the earthquake rubble has been removed, according to a Financial Times report.
"Work is really just getting under way. Progress has been slow for all organizations, both government and non-government," Merritt said. "But we have worked very hard to establish our reputation with local Haitian communities through local Lutheran congregations and leaders. I have spent many hours in meetings with [Haitian] mayors, senators and other dignitaries. We have taken them to see model homes, provided details of our projects and shown that we have no interest in personal profit or glory. We only want to help them help their people."
With the financial support of WR-HC donors, construction has begun on "Building Homes and Hope in Haiti" (BHHH), an earthquake recovery project with a goal of building 1,500 permanent homes as part of at least three Lutheran villages over three years. Volunteers from LCMS congregations are working alongside Haitians to build the homes.
To date, WR-HC and partners have made positive steps that include:
Acquired property in Jacmel, Leogane, Miragoane and near Port-au-Prince, cities where many homeless Haitians struggle to survive in makeshift shelters.
Appointed a projects manager, Dr. Willy Gaspar, to be on the ground in Haiti and to oversee WR-HC's six main earthquake recovery projects.
Provided grants for partners to purchase heavy equipment (tractors, trucks, excavators) to clear land.
Erected 18 homes in Jacmel, with another 25 homes now under construction in the first Lutheran village. Each village will be managed by a local Haitian Lutheran congregation and include a chapel, clinic, orphanage, school and business office.
Set up nearly 100 prefabricated homes in Leogane and Jacmel so Haitians can move out of chaotic camps and live in temporary housing until permanent homes are ready.
Opened the first of four medical clinics in partnership with Haitian Lutheran church bodies. The first clinic has begun treating patients next to a Lutheran Church of Haiti congregation in Poto, a rural area where medical care is especially scarce. Three other clinics (retrofitted shipping containers that include an office, examination room and pharmacy) are being set up in Port-au-Prince, Jacmel and the Central Plateau.
On his most recent trek to Haiti, Merritt saw "thousands and thousands of tents made of bed sheets and flimsy shelters" where people have lived for nearly nine months, sleeping on the wet ground. During a driving rain, "children and adults sloshed around in the mud and gunk."
But Merritt also sees hope in Haiti. "We have negotiated with private property owners over and over again, calling on them to join us in this ministry of mercy by selling us a portion of their prime property at a reduced rate," he said. "It takes time and patience. There have been huge disappointments and misunderstandings along the way, but through it all [ELCH President] Rev. Marky Kessa and I have persevered by focusing on the future of this important ministry of mercy."
Merritt stressed that continued financial support is critical to make the permanent homes and Lutheran villages a reality. WR-HC is asking individuals and congregations to financially sponsor homes through donations to buy construction materials. The ministry also is recruiting volunteers to help with building. To date, more than 100 volunteers from the United States have lent a hand, including members of LCMS congregations and Laborers For Christ.
"We cannot idly stand by and watch more than a million people suffer needlessly when we can do something about their plight," Merritt said. "When you look into the eyes of people who are wet, cold and hungry, and desperate about their future, you know what you must do. Just as our Lord and Savior Jesus Christ does not look away from the suffering, neither can we."
To request a free copy of the "Building Homes and Hope in Haiti" video or to learn more about becoming a BHHH sponsor or volunteer, contact WR-HC at 800-248-1930, ext. 1380, or visit www.lcms.org/bhhh.
Mail checks (earmarked in the "memo" line for either "Building Homes and Hope in Haiti" or "Haiti Cholera Outbreak") to LCMS World Relief and Human Care, P.O. Box 66861, St. Louis, MO 63166-6861; or call 888-930-4438.
To make an online gift to BHHH, click here.
To make an online gift for Haiti cholera outbreak relief, click here.
Kim Plummer Krull is a freelance writer and a member of St. Paul's Lutheran Church, Des Peres, Mo.
Posted Oct. 27, 2010