The Lutheran Women's Missionary League is offering its new "Mustard Seeds" devotions free via e-mail — one devotion per day.
"Mustard Seeds" are short devotions on various topics that may be used for personal Bible study or handed out as an evangelism or witness tool. The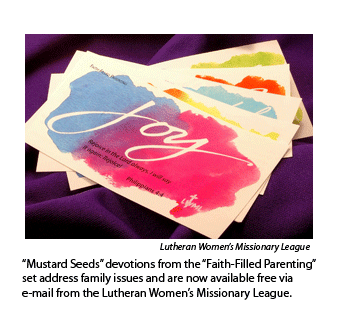 newest set, "Faith-Filled Parenting" ($2.50, order code 40212), includes 32 devotions that address family issues such as discipline, trust, patience and love.
"For almost 40 years the LWML has been producing these brief devotions. Used for personal devotions, as well as an evangelism or outreach tool, these 'seeds' plant God's Word," LWML President Janice Wendorf told Reporter. "The free subscription provides electronic copies seven days a week with encouragement that comes right to a person's inbox and also allows the option to send the devotion to others via e-mail."
Since the e-mail service began two months ago, feedback from subscribers has been positive, according to Wendorf. "Comments like, 'It was just what I needed to read today,' or 'The devotion allowed me to minister to the needs of a friend,' have been received," she said. "By offering this electronic option, we hope to assist others in sharing God's Word and also reach some who may not know of Jesus Christ."
To order the free e-mail subscription, visit the auxiliary's Web site at www.lwml.org, click on "Resources" at the top of the home page, then "Devotions," and follow the instructions.
To order printed "Mustard Seeds," contact the LWML at 800-252-LWML (5965) or visit its Web site.
Posted June 16, 2010