The Children's Christian Concern Society, an LCMS mission organization, is starting new work in January in Cuba and Cambodia.
"For 30 years, we depended entirely on the Lord, as we couldn't officially function as a church," said Rev. Ishmael Laborde, president of the Lutheran Church of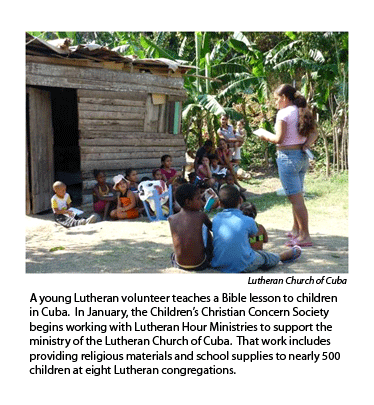 Cuba. "Now Cuba is opening and we have eight escuelita Biblicas [Bible schools] for children to start teaching them the Christian faith."
Working with St. Louis-based Lutheran Hour Ministries (LHM), which has an office in Santiago de Cuba, the Children's Christian Concern Society (CCCS) will support the eight Bible schools by providing materials and school supplies. Each Saturday, more than 60 children at each of the sites gather for Bible and catechism lessons, sports, puppet shows, games, and Christian music.
"This is a great opportunity for CCCS to partner with Lutheran Hour Ministries in sharing the Gospel with the children of Cuba," said Ken Peterson, CCCS liaison to Cuba with LHM. "These are children that have grown up in an atheistic society, where the state has been seen as 'god.' They haven't had the chance to hear about Jesus and get to know the many wonderful stories of how God has worked in the world since creation. This project will allow [the Cuban church's] children's ministry to really take shape and prepare the future leaders of the church."
In Cambodia, the society will provide funding for teachers' salaries, plus tuition and school clothing for children who live in slum areas.
The Children's Christian Concern Society "shares the love of Jesus" and provides funds for scholarships and teachers' salaries to more than 18,000 children in 21 developing countries.
Says its projects director and founder, Dr. Edith Jorns: "Through the tiny seed planted of a boarding school in Zacapa, Guatemala, 41 years ago with 11 students, the seed has grown, spreading God's Word in places where Christians are few."
For more information, visit the society's Web site at www.cccskids.org.
Posted Jan. 6, 2010