"ONE People — Sharing Christ's Love" is the theme for the LCMS 2010 National Offering that will provide funding where needed most for the mission and ministry of the Synod to support local congregations and international ministries.
Monetary gifts for the offering may be brought to this summer's 64th Regular Convention, July 10-17 in Houston; sent by mail to The National Offering, P.O. Box 790417, St. Louis, MO 63179-0417; or provided via credit card online at www.lcms.org/nationaloffering, or by phone at 800-248-1930, ext. 1643.
"Your prayers and support for our beloved Synod are essential," Synod President Dr. Gerald B. Kieschnick write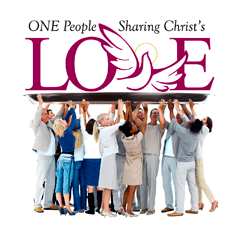 s in a letter with an offering packet mailed to congregations in late April. "As the decline of Christian influence in our communities is becoming more obvious, it is more important than ever to help people live confidently for Christ and embrace people with His love."
He writes that gifts to the 2010 National Offering will be used where most needed "in support of our churchwide vision by providing trustworthy resources faithful to the Word and a ministry network accountable for equipping local congregations."
After consulting with the Council of Presidents during its April meeting, Kieschnick announced that "the following mission and ministry areas have been identified as some of those where support is 'needed the most' for the joint work of our beloved Synod: national and international mission planting, congregation revitalization, stewardship renewal and education, and additional national Synod mission and ministry needs."
General gifts contributed to the National Offering will be distributed among these areas of mission and ministry. Congregations or individual donors also may choose to designate their gifts to one of these causes.
Congregations may order a free 2010 National Offering bulletin insert (in multiples of 50) online at www.lcms.org/nationaloffering, or by calling Ann Dauer at 800-248-1930, ext. 1696. Bulletin orders will be filled beginning in early May.
For more information about the LCMS 2010 National Offering, write Sharing Christ's Love, 1333 S. Kirkwood Road, St. Louis, MO 63122-7295; call 800-248-1930, ext. 1643; or visit the National Offering Web site.
Posted April 29, 2010