By Paula Schlueter Ross
RIVER FOREST, Ill. — Although the number of missionaries beginning service with LCMS World Mission this year is about the same as last year, most of them look a little different. They're younger.
And that's not a bad t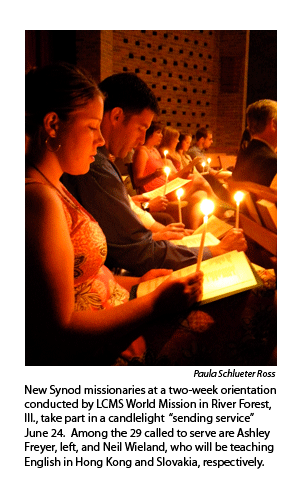 hing, according to Ron Scherch, director of recruitment services with the Synod's mission board.
"We're really pleased that young people who are just completing their college education are choosing to do missionary service as a first-time call or just as a first-time experience before they return to follow a professional or commercial career — whatever their life goal is," Scherch said. "More and more, we're finding young people want that global experience and global service. And I think our church body is going to see an increasing number of young people choosing to be missionaries — and that bodes well for the future."
Of the 29 new missionaries, only about a half-dozen are over age 30. The missionaries will be serving in 16 locations, including Hong Kong, Latvia, Macau, Panama, Peru, Poland, Slovakia, Uganda, and Central and Southeast Asia. Most will begin their service in late summer or fall.
Today's 20-somethings "want relationships" and "are driven by a passion of the heart, not the pocketbook," Scherch says, so they're a good match for relationship-driven mission fields.
Those who seek missionary positions with LCMS World Mission typically have a strong faith, he says, and missionary service is something they've often thought about doing. Most, if not all, already have experienced life in unfamiliar cultures by taking part in high school or college mission trips.
They're less materialistic and career-driven — "they're just here to serve," he says.
Serena Little, a 22-year-old from Seattle, was among those taking part in the June 14-24 missionary orientation sponsored by LCMS World Mission at Concordia University Chicago, River Forest, Ill. She will teach English-as-a-foreign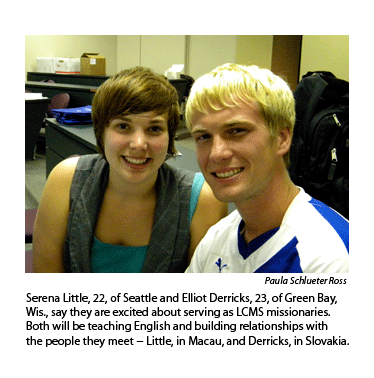 -language (EFL) in Macau, beginning in October.
Little, who graduated in May from Concordia University, Portland, Ore., with a teaching degree, got her first taste of mission work two years ago in Guatemala. There, she spent two weeks working at a dental clinic, holding the hands of children who were having teeth extracted, and "connecting with people."
She called the orientation "definitely" useful and said she is "excited and still a little bit in shock" about serving overseas.
Asked if she's "too young to do this," she laughed, "Well, probably, but God is telling me something different."
Also at the orientation was Elliot Derricks of Green Bay, Wis. Derricks, 23, graduated this spring from the teaching program at Concordia University Wisconsin, Mequon. He will serve at least a year in Slovakia, teaching EFL while building relationships among the people there.
Derricks said he took part in mission trips to Juarez, Mexico, while in college, and "just fell in love with missions. I got to know so many wonderful people there, and made so many great connections."
On his first trip, he helped build a three-bedroom house for a family with seven or eight children. When his group presented the house to the family, Derricks said he was overcome with emotion and shed tears when the father announce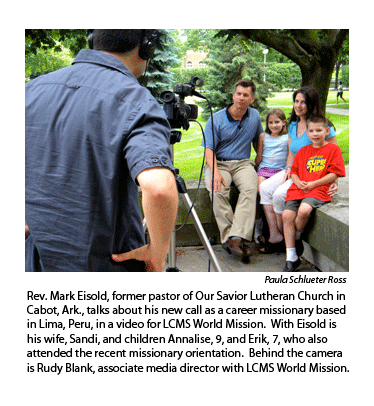 d that, to thank God, the whole family would be baptized.
While Derricks doesn't know how long he'll end up serving — many of those with one-year assignments renew them for longer terms — he says he's "absolutely" certain that mission work "is something I need to do right now."
He added: "I'm just looking forward to this opportunity, and I'm just excited to see where God's going to lead me, what He wants to do with me."
The orientation, held annually, is designed to prepare new missionaries for overseas service, and includes presentations and discussions on topics such as culture shock, self-care, living cross-culturally, communication, raising financial support, income and health insurance, witnessing, building relationships and teaching EFL.
"Whose mission is it?" Rev. John Mehl, regional director for Asia with LCMS World Mission, asked several times in his presentation on "mission engagement."
"God's!" responded the group.
Mehl said he wanted the missionaries to "focus on the fact that this is God's mission that we're in. We are sent [by God]. It's all about Him — it's not about us."
He added that this year's missionaries "are young [but] they are quite mature — spiritually mature. They kn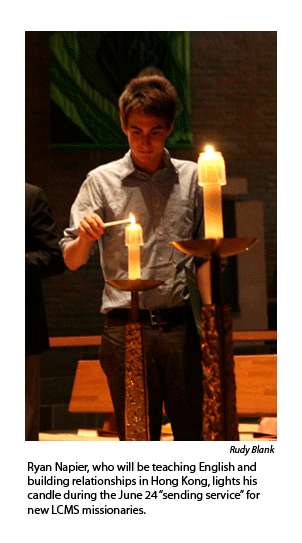 ow and understand that God is calling them to this ministry" and they have "a tremendous amount of enthusiasm" to serve.
At the orientation, Bruce Wall was both a presenter and a new missionary. In his talk about short-term service, Wall said "the greatest resource in the LCMS is its people."
Wall served at the Synod's International Center in St. Louis for four years as program director for short-term mission service before accepting a call to become a career missionary. Now, as area facilitator for the Caribbean and Peru, he said he and his wife, Sarah, believe "God is leading us." They are based in Panama with their two young children.
Graham Guenther, 23, of Overland Park, Kan., credits God — and his sister, Emilie Dubert — for opening his heart to missionary service. Dubert, 27, is returning to the United States this year after teaching EFL in Taiwan since 2006. Graham will take his sister's place on the mission field, arriving in Taiwan in mid-August.
Just a few months ago Guenther told his youth minister that he had "no interest" in doing what his sister was doing in Taiwan.
"So, within a couple of months it went from 'no interest at all' to 'here I am getting ready to go,' " he mused. God, he says now, "has a plan for me" and led him to believe that "this is what I need to be doing."
He encouraged others to "consider [missionary service] because you never know what God has in store for you."
For information about missionary service with LCMS World Mission, visit www.lcmsworldmission.org (click on "Service Opportunities" at left) or call 800-433-3954 and ask to speak to a placement counselor.
Posted July 7, 2010