Dr. Oswald A. Waech, The Lutheran Church–Missouri Synod's first evangelism secretary (from 1954 to 1962), died June 1 at a Chino, Calif., hospital.

Dr. Waech, who was 98, had been in declining health for a number of years. He and his wife, Marion, lived at the Inland Christian Home, a retirement community i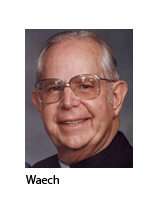 n Ontario, Calif.
The funeral service took place June 7 at Immanuel Lutheran Church, Chino, with committal later that day at Bellevue Memorial Park, Ontario.
A 1932 graduate of Concordia College, Milwaukee (now Concordia University Wisconsin), Dr. Waech graduated from Concordia Seminary, St. Louis, in 1936. He received an honorary doctorate from Concordia Theological Seminary, Springfield, Ill. (now Fort Wayne, Ind.), in 1976.
He served Gethsemane Lutheran Church, Buffalo, N.Y., as assistant pastor and pastor, from 1936 until joining the Synod staff in 1954.
From 1962 until his retirement in 1979, Dr. Waech was presidential administrative assistant (for stewardship and evangelism) with the LCMS Southern California (now Pacific Southwest) District. During that time, he also was the district's mission counselor, laying the groundwork for opening new missions throughout the region.
In retirement, he was assistant pastor for a number of Lutheran churches in Southern California.
"Oswald Waech was a great man of God, a great speaker, a great teacher and a great evangelist," said Dr. W. Leroy Biesenthal of St. Louis, who knew him well and also is a retired Synod and district evangelism leader. "Ozzie knew the grace of God, proclaimed it clearly, and showed others how to know and proclaim it," Biesenthal told Reporter.
In addition to his wife of 70 years, Marion (nee Korn), Dr. Waech's survivors include four children — Phyllis (Wayne) Fuhr of Washington, Mo.; Marcia Waech, Anaheim, Calif.; Judith (Doug) McClymonds, Roseville, Calif.; and David Waech, Alta Loma, Calif.; four grandchildren; and two great-grandchildren.
The family suggests that memorial gifts be sent to the LCMS Pacific Southwest District Stewardship and Evangelism Departments, 1540 Concordia East, Irvine, CA 92612-3203.
Posted June 4, 2010