"We are a significant step closer to creating a world-class attraction in Wittenberg, Germany, that will very clearly present the Gospel to tens of thousands of people — or more — every year through the story and theology of Martin Luther," LCMS missionary Rev. David L. Mahsman said after a two-day creative-planning meeting June 24-25 in Wittenberg.
Plans are being developed for an "interactive, immersive museum or discovery center" in the city most closely associated with Luther.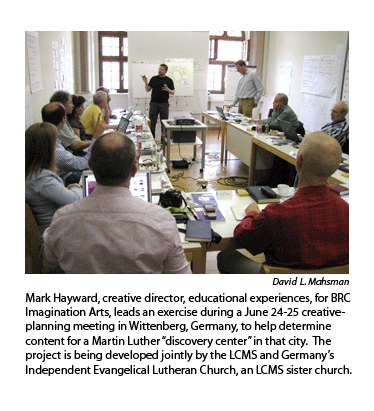 It is expected to draw Wittenberg-area residents, visitors and tourists from around the world, he said.
Mahsman was sent to Wittenberg in September to develop a plan for ministry in Wittenberg. He is managing director of the International Lutheran Society of Wittenberg (ILSW), which was established by the LCMS, Concordia Publishing House and Germany's Independent Evangelical Lutheran Church to work in Wittenberg.
"The story we want to tell centers on the clarity of the Gospel that Martin Luther rediscovered in Wittenberg," said Dr. Samuel H. Nafzger, chairman of the ILSW board. Nafzger, who also is director of church relations in the LCMS Office of the President, was one of the participants in the creative meeting.
LCMS Vice-President-Finance/Treasurer Tom Kuchta, who also participated, added, "We have strong Lutheran theologians and historians involved, but the story will be told in a way that is easily understood by every visitor."
The two-day meeting was led by staff from BRC Imagination Arts, which Mahsman said is "probably the world leader in developing interactive museums and educa-tional and cultural attractions." BRC clients include the Abraham Lincoln Presidential Library and Museum, Springfield, Ill.; the Texas State History Museum, Austin; Chicago's Adler Planetarium; Louisiana's Old State Capitol political history museum; the National Health Museum, Atlanta; the Arizona Science Center, Phoenix; and NASA's Kennedy Space Center Visitor Complex in Florida.
Participants also included Dr. Paul L. Maier, LCMS second vice president and professor of ancient history at Western Michigan University, Kalamazoo; Dr. Erik Herrmann, assistant professor of historical theology at Concordia Seminary, St. Louis; SELK Bishop Hans-Jšrg Voigt; SELK mission director Rev. Roger Zieger; Rev. Wilhelm Torgerson, retired ILSW managing director; Dr. Martin Treu, curator of Wittenberg's Lutherhaus museum; Wittenberg OberbŸrgermeister (Lord Mayor) Eckhard Naumann and mayoral aide Arne Lietz, whose assignments include tourism-related issues.
Preliminary reports are due in late July from BRC Imagination Arts as well as from Wenzel Consulting of Hamburg, Germany, which is preparing an analysis of costs and other data for the project. Final reports are due at the end of August. The ILSW board will meet in early September to discuss the next step and to prepare a report for the LCMS Board of Directors.
"This has exciting potential," Dr. Paul Maier said of the project. With the approach of the 500th anniversary of the Reformation in 2017, he said, the Wittenberg project has "the confluence of location, the anniversary and the centrality of what happened here. This is where the Reformation began, and the project is a way to celebrate it properly."
Posted July 1, 2010