Rev. Timothy J. Scharr was installed as president of the Southern Illinois Distri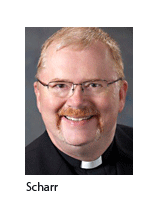 ct Aug. 29 at Trinity Lutheran Church in Nashville, Ill.
Scharr, 52, succeeds Rev. Herbert C. Mueller Jr., who was elected as LCMS first vice president at the Synod's national convention in Houston.
The Southern Illinois District Board of Directors appointed Scharr to the position July 31.
A 1984 graduate of Concordia Theological Seminary, Fort Wayne, Scharr has served since 2001 as pastor of Trinity, Nashville, and since 2009 as the district's first vice president.
Before coming to Illinois, Scharr served at Mount Calvary Lutheran Church in Indianola, Iowa, from 1984 until 1994, and St. Paul's Lutheran Church, Wenatchee, Wash., from 1994 to 2001. He is a graduate of Concordia University, Ann Arbor, Mich., with majors in history/political science and religious studies.
He and his wife, Kathy, have two daughters.
Posted Sept. 8, 2010