Concordia Seminary, St. Louis, is offering several Hispanic-ministry events in March under the theme "Second- and Third-Generation Hispanics in the U.S. — Questions and Implications for the Church."
The Second Hispanic Theological Consultation and the Sixth Annual Lecture in Hispanic/Latino Theology and Missions are planned for March 15-16. Dinner and a "Latino Movie Night" will kick off the events on March 14.
Dr. Victor M. Rodríguez, professor in the Department of Chicano and Latino Studies at California State University, Long Beach, Calif., is the speaker for the Lecture in Hispanic/Latino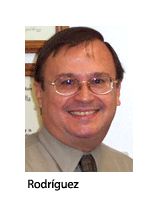 Theology. Rodríguez will address "The New Latino Generations: Caught Between Two Worlds" at 7 p.m. March 15.
The Hispanic Lutheran Theological Consultation will offer workshops and presentations in English and Spanish March 15-16.
Presenters will include Dr. Leo Sánchez, director of the seminary's Center for Hispanic Studies; Rev. Héctor Hoppe, director of Multilingual Resources at Concordia Publishing House, St. Louis; and Dr. Mark Kempff, an instructor at the Center for Hispanic Studies, St. Louis.
Presenters will share cultural and demographic information that focuses on understanding second- and third-generation Hispanics. They also will pose questions based on available research and explore the implications for the church, mission work, youth and family.
All lectures are free and open to the public.
For more information, contact the seminary's Office of Continuing Education and Parish Services at 314-505-7486 or ce@csl.edu. Or visit the seminary's website at www.csl.edu.
Posted Dec. 30, 2010